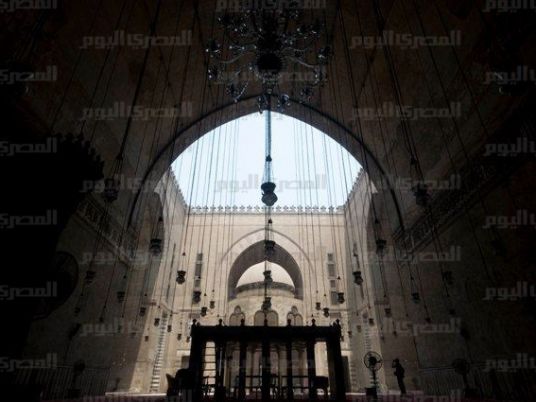 Following the massive controversy that surfaced on social media platforms in response to circulated news that mosque loudspeakers could potentially be banned for Ramadan prayers, Endowments Minister Mokhtar Gomaa denied on Saturday that his Ministry intends to ban the usage of loudspeakers.
During a meeting he held with other high-ranking officials from the Ministry of Endowments, Gomaa asserted that some extremist groups are spreading these rumors to destroy the Ministry's reputation among Egyptians.
He said the Ministry does not intend to ban mosque loudspeakers during the Taraweeh prayers (special prayers held in Ramadan); however, the Ministry is considering regulating the use of these amplifiers: "The Endowment Ministry will only regulate the usage of these loudspeakers for the sake of curbing any sound distortion or interference that may take place, as there are numerous mosques that use these loudspeakers," he explained during the meeting.
According to Gomaa's explanation, the basic rules set by the Endowment Ministry stipulate that only internal loudspeakers should be used inside mosques. If the number of worshipers increases to the point that some have to pray on mats outside, during the more popular Friday prayers for example, then the mosque's loudspeakers can be used.
"There is no need to use the loudspeakers if there are not many worshipers," Gomaa said.
A number parliamentarians had expressed outrage over the circulated news on the potential loudspeaker ban. Following the Minister's clarification, they criticized the plan to regulate loudspeakers for Ramadan prayers.
Among the most outspoken MPs who oppose the strategy is the head of the Religious Committee in the Parliament, Osama al-Abed.
"The month of Ramadan for Muslims is considered a month for rejoicing and for pleasure. Muslims in Egypt should not be deprived of this pleasure, which originally came through hearing the voice of Islam's holy book, the Quran, as its verses are broadcast via loudspeakers in streets," Abed told Egypt Independent Monday.
He added that using loudspeakers for the daily two-hour night prayers during Ramadan will not cause any sound distortion between mosques, saying that sound of prayers is considered part of Ramadan's vivid spirit in Egypt.
MP Gamal Abbas echoed the sentiment posting on his Facebook page that he will submit a request to the Parliamentary Speaker for more information about the Minister's statements.
Abbas said that censorship on the part of the Endowments Ministry will have serious consequences and will negatively affect public opinion.