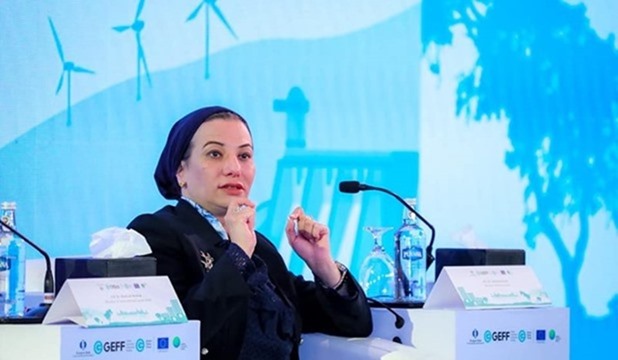 Environment Minister Yasmine Fouad said the launch of the Green Economy Financing Facility (GEFF) encourages the private sector to engage in funding climate projects.
Fouad's remarks came during a speech that she delivered on Tuesday on the occasion of initiating the (GEFF EGYPT II), by the European Bank for Reconstruction and Development and the Green Climate Fund.
The event was attended by International Cooperation Minister Rania el-Mashat and EU Ambassador in Cairo Christian Berger.
The environment minister underlined the importance of restructuring the banking sector in Egypt to become more understanding of climate financing, as this issue faces challenges that are related to several sectors, particularly the energy sector, which is the largest emitter of carbon dioxide, as well as enhancing banks' contribution to executing climate adaptation projects.
She noted that Egypt introduced a package of green incentives for the priority sectors that include renewable energy, green hydrogen and waste management, in addition to finding alternatives to single-use plastic bags.
The environment minister stated Egypt seeks to support green transformation, through developing an integrated strategy for its waste management, along with providing incentives for investment into waste management, such as setting a tariff for converting waste into energy, as well as transforming the informal sector of waste management into an official one.
Fouad stressed her ministry's keenness to establish the green investment and climate unit to come up with new ideas and mechanisms for promoting green investments in Egypt, in cooperation with development partners and the banking sector, with a view to executing the national strategies and plans on confronting the effects of climate change.