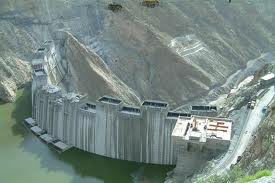 The Ethiopian Foreign Ministry said it has recalled Egyptian Ambassador Mohamed Idrees for clarifications on "threats" that members of political powers made during a meeting with President Mohamed Morsy on Monday.
Morsy met with members of political parties to discuss the Ethiopian Renaissance Dam crisis.
In a statement, the Ethiopian Foreign Ministry said it has asked the Egyptian ambassador for a "swift official response from the Egyptian government regarding the threats issued during the meeting."
The Ethiopian Foreign Ministry expressed shock at the contributions made during the meeting in which participants suggested alternative courses of action to address the issue if Ethiopia's dam is deemed threatening to Egypt's water quota.
Ethiopia, one of the most important upstream countries, last week celebrated the diversion of the course of the Blue Nile, one of the main tributaries of the Nile, in preparation for the construction of the dam which it says will generate electricity and help develop its industry.
Meanwhile, Egyptian experts have expressed concerns that construction of the dam may encroach upon Egypt's share of Nile waters despite reassurances by Ethiopia to the contrary.
The most controversial contribution during the meeting with Morsy was made by Ayman Nour, chairman of Ghad al-Thawra party, who suggested that Egypt disseminate rumors that it is seeking to purchase advanced aircraft.
He said this is an intelligence technique of intimidation. "It might not be realistic, but it will bring results on the diplomatic path". Nour said he believes diplomatic efforts will not yield great outcomes: "Ethiopians have made up their minds, and it is highly difficult for them to backtrack".
Most of the participants called for a diplomatic solution to the crisis while President of the ruling Freedom and Justice Party Mohamed Saad al-Katatny said all options should be open including military.
The Ethiopian Foreign Ministry said the meeting Morsy held with political powers came at a time when the Ethiopian government was seeking a solution that would keep all concerned parties satisfied, emphasizing that Egypt, Sudan and Ethiopia will all benefit from the construction of the dam.
Regarding the opinions expressed during Morsy's meeting, the Ethiopian Foreign ministry said that some icons of the Egyptian opposition are exploiting the issue of the dam to "thrust the Egyptian government into a confrontation with Ethiopia".
The Ethiopian Foreign Ministry affirmed the strength of Egyptian-Ethiopian relations describing them as "historical and deep-rooted".