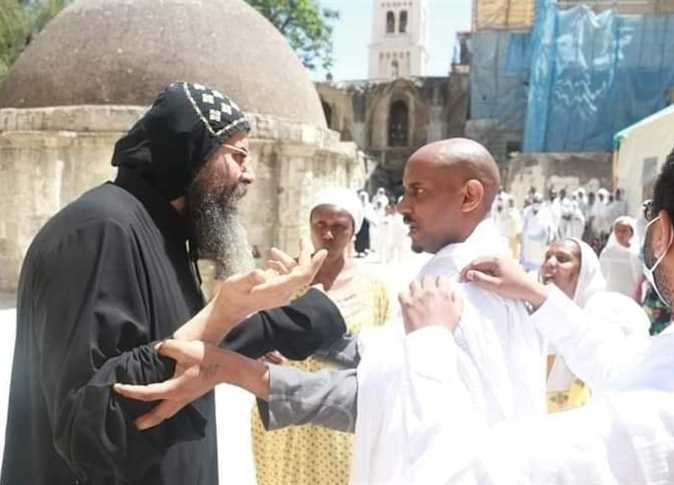 The Egyptian monks of the Monastery of the Sultan, owned by the Egyptian Coptic Orthodox Church, were surprised on Thursday evening when Ethiopian monks stormed the monastery and raised within it the Ethiopian flag.
The monastery is located within the walls of the Old City of Jerusalem, in the Christian Quarter next to the Chapel of Saint Helena, and the Church of the Holy Sepulchre.
The Ethiopian monks set up a tent in the courtyard of the monastery to celebrate the Resurrection Day – according to what they said – and put the Ethiopian flag on the tent, angering the Egyptian monks in the monastery.
The Egyptian monks removed the tent, causing their Ethiopian counterparts to object and attack the monks of the Egyptian Coptic Church.
Furthermore, Bishop Antonius of the Holy See of Jerusalem and the Near East led a protest against the Ethiopian monks' attack on the church.
The Coptic Orthodox Church issued a statement confirming that the Monastery of the Sultan belongs to the church, adding that its buildings and components indicate its Coptic identity.
Coptic monasticism in Jerusalem has not ceased, and the monastery has never been free from Egyptian Coptic monks until now, it added.
Despite repeated attempts to seize the monastery for hundreds of years, the Coptic Church was able to keep the monastery, and many court orders have been issued in favor of the Coptic Orthodox Church, confirming its ownership of the monastery.
The last time the monastery was invaded was April 25th, 1970. 
The Israeli High Court of Justice, the highest judicial authority in Israel, ruled on March 16, 1971, in favor of the Coptic Church, based on documents proving the Coptic church's ownership of the monastery, but unfortunately, the executive authority refused to implement the court's decision, according to the church's statement.
Karim Kamal, head of the General Union of Copts for the Homeland, called on Pope Tawadros II, to commence negotiations between the Egyptian and Ethiopian Coptic Orthodox Churches to resolve the ongoing dispute over the monastery.
Salah Eddin al-Ayyubi returned the church to Egyptian Copts after the Crusaders took it over, and it was known since then as "Deir al-Sultan".
The monastery is of special importance to the Copts, as it is their direct way to reach from the Monastery of Saint Anthony, where the Egyptian Patriarchate is based, to the Church of the Holy Sepulcher.
Edited translation from Al-Masry Al-Youm