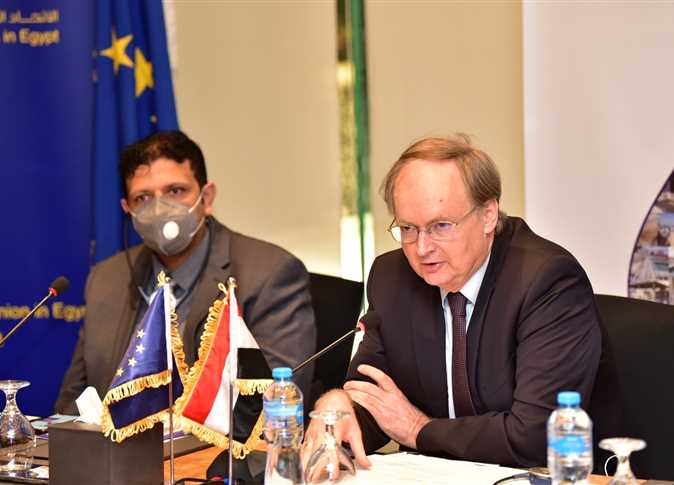 The Ambassador of the European Union to Egypt Christian Berger on Wednesday said that the EU supports continued discussions between Egypt, Sudan and Ethiopia regarding the Grand Ethiopian Renaissance Dam (GERD).
"When talking with my colleagues, we all believe that the time has come to come up with a solution that supports the stability of the region, while at the same time supporting the economic potentials and opportunities emanating from the dam," he said.
During a meeting with journalists on the sidelines of the Cairo Water Week, the ambassador added that the European Union is observing the GERD situation and its repercussions on Egypt.
"I was responsible for the Middle East file in Brussels in 2016 at the time of the construction of the dam, and I had information about the situation and the objections that Egypt had… We had representatives observing and following the discussions at the time," he explained.
He added that "I think we welcome the continuation of these discussions with all parties, and support the efforts made by the African Union, he added, saying that the European Union wishes to reach successful results from technical and political discussions."
The Third Annual Cairo Water Week (CWW) was held from October 18-22.
"Water Security for Peace and Development in Arid Regions – The Road to Dakar 2021" was the theme for this year's event.
The Cairo Water Week was organized by the Ministry of Water Resources and Irrigation in collaboration with the EU alongside other national, regional and international partners.
"Cairo Water Week is an important platform that supports Egypt's position as a regional hub for integrated water management and knowledge sharing. It was a pleasure to participate in the high level policy dialogue conducted with the Egyptian authorities, the Union for Mediterranean and other stakeholders during the 2nd EU-UfM-Egypt Water Governance and Business Forum," said Berger.
"Looking at the very successful three rounds of CWW and our partnership with the Government of Egypt and other stakeholders, we are proud to have convened six international and regional events – many of which were attended by over 500 participants, representing 27 countries and 15 international organizations," he added.