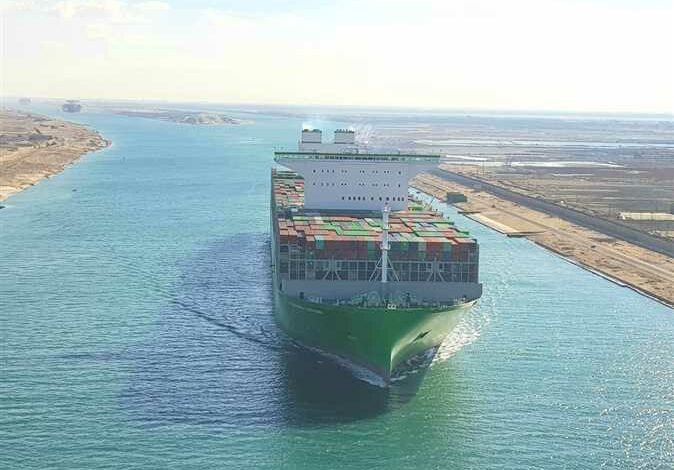 The Suez Canal waterway on Saturday witnessed the transit of the giant container ship EVER ATOP, the largest and most modern container ship in the world on its first cruise as part of the southern convoy of the new Suez Canal, on its trip from Malaysia to the Netherlands.
EVER ATOP is the tenth ship in a series of the latest giant container ships of the shipping line EVER GREEN of the class "A24", which have all crossed the Suez Canal so far.
The ship is distinguished by its huge dimensions, measuring 400 meters long, 61.5 meters wide, with a draft of 16.30 meters long. Its tonnage is 224,000 tons, and its capacity exceeds 24,000 containers.
According to the protocol followed by the Suez Canal Authority in dealing with giant ships crossing the canal for the first time, head of the authority Osama Rabie, delegated captain Hisham Helmy to board the container ship EVER ATOP and welcome its crew, handing a souvenir to the captain of the ship.
Rabie stressed that the successive transit of the latest and largest container ship through the Suez Canal is a certificate of confidence in the canal's ability to receive the current and future generations of the global fleet of container ships.
It also serves as an affirmation of the canal's capabilities that made it the first destination and the ideal choice for the transit of giant container ships operating on the transfer of world trade between the  East and West.