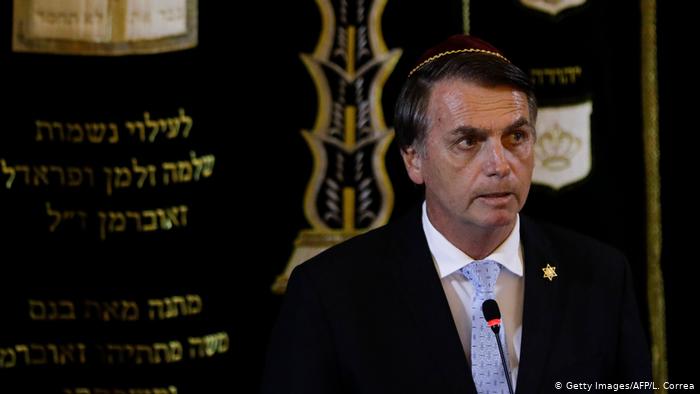 In 2016, far-right Brazilian lawmaker Jair Bolsonaro donned a white robe to be baptized in the Jordan River by a prominent evangelical pastor.
Nearly three years later the former Army captain is back in Israel as the president of Latin America's largest democracy following an election in which the populist politician rode to power with the support of Brazil's more than 40 million evangelicals.
Bolsonaro's four-day trip to Israel starting on Sunday is as much about religious ideology as it is a shift in foreign policy. The two sides are expected to sign agreements on science and technology, trade, defense, agriculture and other areas. Bolsonaro, who is Catholic but married to an evangelical, will visit religious sites in the Holy Land.
It comes after Israeli Prime Minister Benjamin Netanyahu was one of the few Western leaders to attend Bolsonaro's January 1 inauguration amid pledges that Brazil would follow the lead of US President Donald Trump in moving the country's embassy to Jerusalem, where evangelicals believe Jewish control will hasten the "end of days" and the second coming of Christ.
Like Netanyahu, who for more than a decade has courted US evangelicals, Bolsonaro is an outspoken supporter of Trump who rallied evangelicals to win the White House.
"The main driver of this visit is the close alignment of Bolsonaro with Trump and his evangelical base," said Arie Kacowicz, a professor of international relations at the Hebrew University of Jerusalem.
Jerusalem embassy move
Bolsonaro, dubbed by some as the Trump of Latin America, has since backpedaled on an immediate Jerusalem embassy move in the face of pushback from his economic team, the military and country's powerful farm lobby. Instead, Brazil is expected to open a commercial office in Jerusalem.
Transferring the embassy risks angering Arab and Muslim countries, with which Brazil has maintained cordial relations as part of its traditional multilateral and neutral foreign policy.
Brazil is the world's largest exporter of Islamic halal beef and a Jerusalem embassy move has prompted warnings from Arab and Muslim states that import billions of dollars of meat.
Regardless of whether Brazil moves its embassy, Bolsonaro's visit nonetheless is viewed as a success for Netanyahu, who has made the argument that during his decade in power he has brought Israeli foreign policy to new heights.
Under Netanyahu, Israel has developed close ties with right-wing governments in the Americas, Europe and India. The country now appears to have found a new friend in Bolsonaro.
Read more: My Europe: Orban and Netanyahu — Brothers in attitude 
"Since Brazil is the major regional power in Latin America, this visit can be considered a diplomatic triumph for Netanyahu.  At the same time, it further corroborates that his government has preferred to align with illiberal or populist democracies, distancing itself from the Democratic Party in the United States and the traditional liberal Western countries in Europe," said Kacowicz.
Election meddling
Bolsonaro is in Israel as Netanyahu faces a close re-election battle on April 9 while multiple corruption investigations are swirling around him. It comes after Trump recognized Israel's sovereignty over the occupied-Golan Heights, in a move observers viewed as intended to give Netanyahu an election boost.
Read more: Trump's Golan recognition: A dangerous precedent?
For Marcos Azambuja, Brazil's former Deputy Foreign Minister who also served as ambassador to Argentina and France, the timing of Bolsonaro's visit is problematic.
"Bolsonaro should not be in Israel days before a crucial Israeli election," he said. "We should not meddle in Israeli domestic politics one way or another."
"Inevitably our presence will be played … by a prime minister of Israel who is bent on gaining outside support for his domestic policies," he said.
Azambuja, now an adviser to the Center for International Relations, a Brazilian think tank, also expressed concern about an ideological shift in foreign policy by a multi-ethnic and multi-religious country like Brazil.
"This bias towards an evangelical vision is a departure from the idea of a secular state and of a government which doesn't meddle in religion and a country which is tolerant of all religions and sects," he said.  "It may appear that we are allowing religious factors to play an undue role in what has been an exemplary secular state."