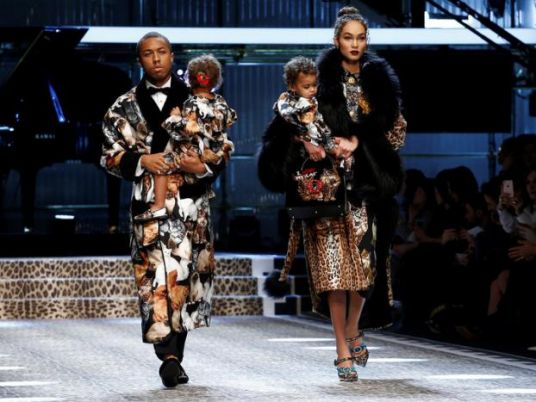 Mothers and daughters, siblings and families took the catwalk on Sunday at the Milan fashion show of Italian brand Dolce & Gabbana (D&G), who frequently use the image of the family for campaigns and projects.
"Family is our point of reference," said the company website, where people are invited to post family portraits.
The two designers, who remained business partners after their romantic relationship ended, weighed in to an impassioned debate about gay rights in Italy last year, as parliament was approving a bill to offer rights to same-sex couples.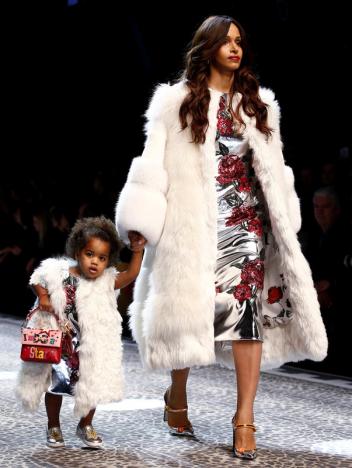 Model and daughter present creations from the Dolce&Gabbana Autumn/Winter 2017 women collection during Milan's Fashion Week (Alessandro Garofalo/ Reuters).
They recently launched clothes and accessories depicting a cartoonish image of themselves with their dogs and cats, with a #DGfamily logo on the back.
Dolce and Gabbana continued with the influencer theme around which they based the show of their last men's collection in January, bringing to their runway young millennials who boast millions of followers on Instragram, including Kristina Bazan, Marcus Butler and Lucky Blue Smith.
Next to glittered green dresses, wide black and gold tuxedo jackets, short damasqued outfits and long coats with embroidery in the shape of roses, the collection showcased fur vests and coats with leopard and bear head shaped hoods.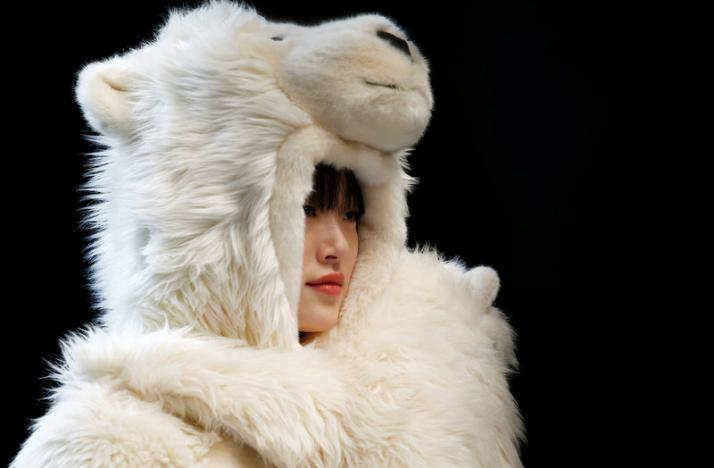 Fake animal fur fom the D&G collection for Autumn/Winter 2017 at Milan Fashion Week (Alessandro Garofalo/ Reuters).
Celebrity guest models on the runway included the daughter of model Laetitia Casta, the son of TV actress Pamela Anderson and the three daughters of actor Andy Garcia.
Designs of the "New Renaissance" collection were a triumph of opulence, with many of the brand's signature traits including lace, roses, black transparencies, corsets, and leopard print.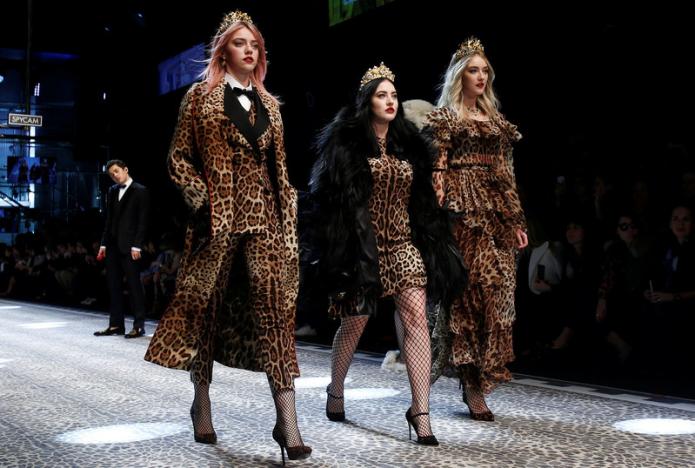 Glamorous animal prints for Autumn/Winter 2017 at Milan Fashion Week (Alessandro Garofalo/ Reuters).
Famed model Bianca Balti, star of many of the fashion house's advertisements, wore a knee-length gold and leopard-print sleeveless dress, adorned with a golden crown and cross-shaped earrings.
The show was styled as a concert, with young American pop star Austin Mahone singing as models strutted down the leopard print catwalk.
Milan fashion week ended on Monday, with designs from Giorgio Armani.
Reporting by Giulia Segreti; Editing by Ros Russell; Reuters