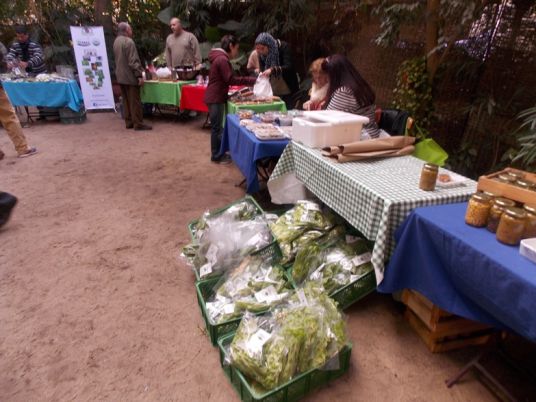 Early Saturday, exhibitors begin trickling into a small garden in a beautiful, quiet Zamalek villa as they roll up their sleeves for the weekly organic Farmers' Market.
"The idea is not only about giving people access to healthy food, but our aim is to put an emphasis on the importance of adopting a healthy regimen that, surely, can tweak your lifestyle for the better," said Hana Holdijk, one of the founders of the Nun center where event is held every Saturday from 10am until 2pm.
It comes as no surprise that Holdijk and her co-founder Nada Iskander are the masterminds behind the idea–both are strong advocates of spreading holistic health medicine throughout the country via the center's fitness and well-being workshops.
Holdijk is a homeopathic consultant with eight years of experience while Iskander is a nutritionist who graduated from the UK College of Nutrition and Health with distinction.
The Farmers' Market supplies organic and locally-grown vegetables, fruits and herbs. It affords visitors the privilege of fulfilling weekly shopping needs by selecting top-notch agricultural produce while avoiding the frozen food section of supermarkets.
One of the exhibitors–El-Kitchen Garden–provides a wide array of freshly picked vegetables, including potatoes, spinach, tomatoes, cabbage, string beans, basil, parsley, carrots, zucchini, molokhia, lavender, eggplant, arugula, garlic, beet and thyme.
"We do not use any chemical pesticides, but rely on animal-based fertilizer, which is one of the types of organic fertilizers that makes food safer to eat," explained vendor Yehia Farid while standing in front of a long table, laden with plastic-wrapped vegetables.
Most of El-Kitchen Garden's crop varieties are smaller than usual, but they taste far better than the large unappetizing industrial produce commonly found in markets nowadays.
Though El-Kitchen Garden mainly works as a wholesale supplier, most of the other exhibitors are small-scale start-ups that saw a potential launching pad for their business in the Farmers' Market.
Bustan Aquaponics is another stand worth stopping by during your visit.
According to owner Fares Farag, his business introduced aquaponics, a food production system based on raising fish (aquaculture) in certain kinds of tanks with hydroponic plants using mineral nutrients and no soil, to Egypt.
"It is the first and only commercial aquaponics farm in Egypt providing the highest quality pesticide-free tilapia fish and aquaponically grown vegetables," Farag said.
Farag espoused hydroponic and aquaculture techniques as a healthy farming system that eliminates problems related to soil-borne diseases that come from using fertilizer.
The locally-produced virgin olive oil was one of the most popular products at the stand. Its fresh taste is certainly hard to forget.
The market also features home-based initiatives run by women that produce dried fruits, jams, baked goods and cookies.
All of the products are made with organic flour, have several flavors and are sometimes stuffed with delicious ingredients. Some offer a home delivery service within the island's borders.
Goods are not limited to food—freshly cut flowers, 100-percent Egyptian cotton towels, and organic soaps are also sold in some stalls.
Some soaps contain anti-bacterial and anti-fungal ingredients, while others are made with pure essential oils like lavender, coconut and Nigella sativa. Flower- or butterfly-shaped soaps cost LE25.
Holdijk explained that the phenomenon emerged–like its products–organically.
"It started out as a seasonal event in March 2012. Then, it proved to be a successful one and we were asked to hold it more regularly," Holdijk said.
The participating vendors change frequently, so make sure to stop by occasionally and see the new, interesting products that have popped up.
The open-air market also offers music sometimes to accompany your shopping, as well as children's classes on painting, gardening and dancing.
The Nun Center is located at 4 Shafik Mansour, Zamalek, Cairo.