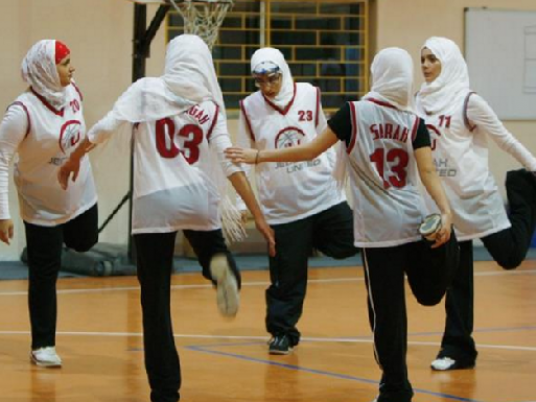 Headwear, including the Islamic headscarf or hijab, will be allowed in professional basketball games from October, following the approval of a proposal by the International Basketball Federation (FIBA) that overturns a previous ban on such head coverings.
Previous rules had banned any headgear and hair accessories in basketball, in what FIBA said was a safety issue.
"The new rule comes as a result of the fact that traditional dress codes in some countries – which called for the head and/or entire body being covered – were incompatible with FIBA's previous headgear rule," FIBA said in a statement.
Under the new rule, the headgear must meet certain criteria to be allowed in competition, including that it "does not cover any part of the face entirely or partially", it is "not dangerous to the player wearing it or other players" and it does not have "parts extruding from its surface".
The organisation's central board approved the proposal on Wednesday and the new rule was formally ratified during FIBA's midterm congress on Thursday.
"It came up in our board meeting and everyone supported making the change," USA Basketball CEO Jim Tooley told AP news agency prior to Thursday's FIBA meeting.
The body started revising the rule back in September 2014 and, in February, the playing rules committee created a proposal that outlined how the headgear can be worn safely during competitions.
FIBA's changes came after mounting pressure from across the world since 2014 for FIBA, as well as other governing bodies, to allow the hijab and other religion headwear.
In 2014, a number of change.org petitions calling for a change to the rule garnered more than 137,000 signatures and a successful social media campaign aimed at overturning the ban had been ongoing ever since.
FIBA's decision follows a trend by international governing bodies to allow professional athletes to practice their religious beliefs while pursuing their athletic careers.
Last week, US boxing officials announced religious wear would be exempt from their rules on headgear.
FIFA allowed religious headwear in 2014.