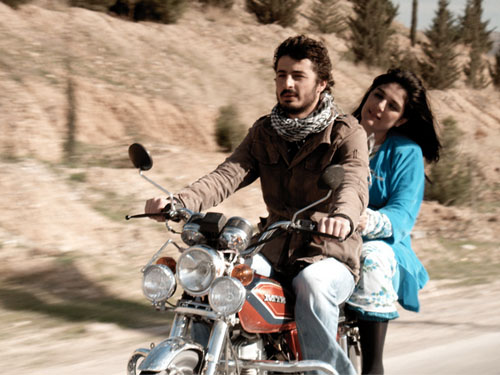 Egypt's Ministry of State for Antiquities requested the sum of LE22,000 from the producers of "Sound from the Hallways", a short experimental film which was due to be screened at the Egyptian Museum in Cairo on Friday.
According to a statement by Mostafa Youssef, the film's co-producer and line producer, after granting the film team with the permission to screen it in the museum two weeks ago, a ministry official only informed them of the fee on Thursday, on the eve of the Friday screening.
The film, a Danish-Egyptian co-production by the Copenhagen-based Kran Film Collective and the Cairo-based Seen Film, is an attempt to challenge notions of historicism as presented by the museum and the overall science of museology.
The image was filmed in the Egyptian Museum in Cairo, which is dubbed by the Kran Film Collective as "one of the most classic and visually dense and unique museums in the world."
"The screening at the museum was going to be so powerful. The film is a cross between a visual art piece and documentary and it would have been powerful to watch it in such a setting," Youssef told Egypt Independent.
The Danish Embassy in Egypt was negotiating with the ministry to get the permission to screen the film at the museum. According to Youssef, it seemed that the ministry deliberately hid the information about the fee probably to coerce the film producers to pay the money.
"We had already paid LE40,000 to only film for eight hours in the museum and they were not free of hurdles. We could not dispense such amounts of money but we had no other choice and had to let go of our own pays," said Youssef, referring also to the film's director Lasse Lau.
He added that it's unfortunate that the embassy, a foreign body that has no stake in the film, did not spare any effort to help its team screen the film at the museum, while the Egyptian Museum, "which the film celebrates, puts obstacles to its screening there, and treats independent art as a way to make financial benefits," as Youssef put it.
Youssef is a member of the Seen Films collective, recently founded in Cairo with the aim of tapping into the on-going political and social discourses with film production.
The screening and its cancelation interrogate the level of openness of the Egyptian Museum as an incumbent house of memory for Egyptians and a bearer of one of the official narratives of the country's pharaonic legacy.
"Sound from the Hallways" is scheduled to be screened on Saturday at Cimatheque in Downtown Cairo, and on Sunday at Darb 1718 in Old Cairo.