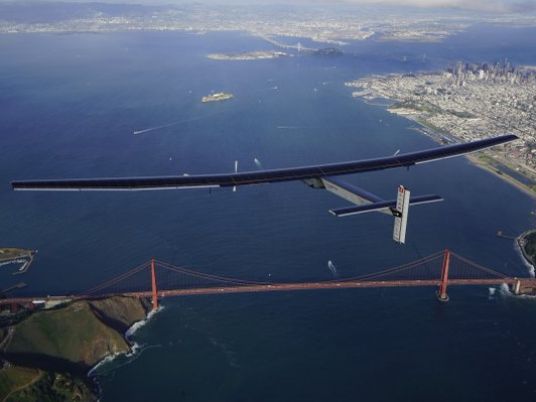 The solar-powered aircraft Solar Impulse 2 left Cairo International Airport early on Sunday heading for Dubai, marking the last phase of its mammoth round-the-world trip started March 9, 2015.
The technologically unprecedented aircraft arrived in Egypt ten days ago from Spain, having flown over Italy, Malta, Greece, Tunisia and Algeria before making a graceful decent into Cairo over the pyramids.
The plane and its team were scheduled to fly to the Emirates on July 17, seen off by a farewell party courtesy of the Egyptian Aviation Ministry, but the departure was postponed due to one of the pilots getting ill.
For the safety of the crew and the aircraft, the decision was made to hold off the final leg of the journey until Swiss pilot Bertrand Piccard was back to full health.
On Sunday morning, Piccard and his co-pilot André Borschberg guided the streamlined craft out of Cairo heading for the Gulf, where they began their journey many months ago.
The colossal project was brought to life by the two Swiss pilots in an effort to research and promote clean technologies. The aircraft has 17,000 solar cells on its wings, which recharge the plane's batteries throughout the day. The wings are 72 meters long, giving the aircraft a stunning, slimline appearance.
Edited translation from MENA