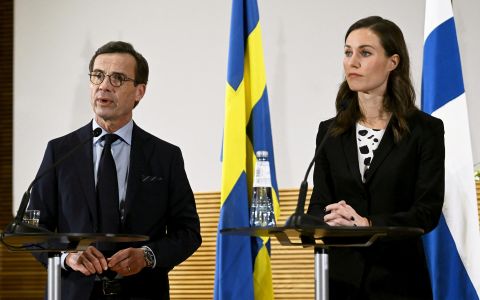 The leaders of Finland and Sweden have expressed their hopes that Turkey and Hungary ratify their membership applications to NATO "sooner rather than later."
During a joint press conference in Helsinki, Finnish Prime Minister Sanna Marin said she had a phone call with NATO chief Jens Stoltenberg earlier Tuesday to discuss "the ratification of our membership application."
"Our eyes are now on Hungary, and of course, Turkey, and we are waiting for these countries to ratify our applications. I think it would be very important that this would happen preferably sooner than later," Marin said.
Some background: Sweden and Finland signed a memorandum with Turkey in June, committing to address Turkey's security concerns around terrorism and arms exports after Ankara opposed their initial bid to join the alliance.
Stoltenberg told reporters in Brussels on Oct. 26 that Hungary had "made it clear" that they would ratify the accession protocol soon, enabling the two countries to become fully fledged members of the alliance.
Marin's Swedish counterpart, Ulf Kristersson, emphasized the "speedy" nature of the ratification process, highlighting the fact that 28 out of 30 members of the alliances have already ratified their applications.
"We fully respect that every country within the alliance makes their own decision. I had a telephone call [Turkish President Recep Tayyip] Erdogan the other day and we agreed on me coming to Ankara, and I will communicate the exact date when it is formally confirmed," Kristersson added.
Sweden and Finland both announced their intention to join NATO in May, after Russia's invasion of Ukraine caused a sudden shift in attitudes toward joining the bloc.