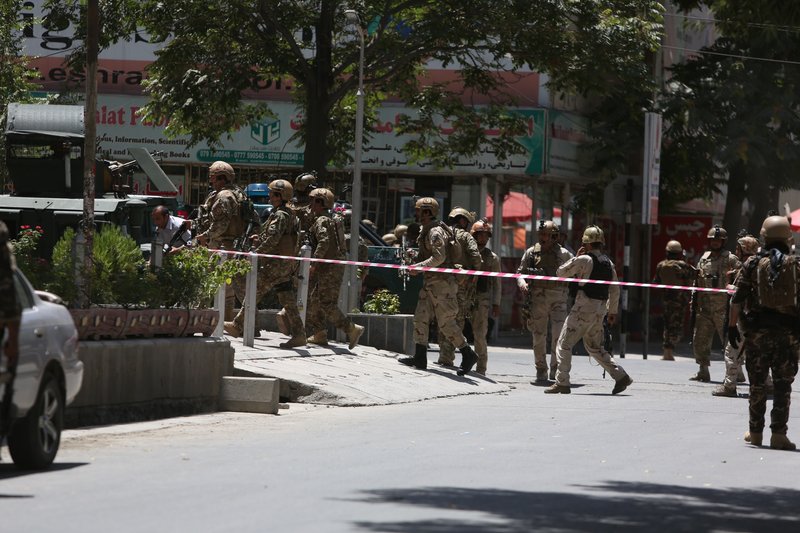 A bucket wrapped in an insulated bag caught fire on a packed London subway train Friday, sending commuters stampeding in panic at the height of the morning rush hour. Police said they were investigating it as a terrorist attack.
Photos taken inside a District Line train show a white plastic bucket inside a foil-lined shopping bag. Flames and what appear to be wires emerge from the top. London ambulance service said they had sent multiple crews to the Parsons Green station and 18 people were hospitalized, though none had life-threatening injuries. Police advised people to avoid the area in southwest London.
"There was out of the corner of my eye a massive flash of flames that went up the side of the train," eyewitness Chris Wildish told Sky News, then "an acrid chemical smell."
Another commuter, Richard Aylmer-Hall, said he saw several people injured, apparently trampled as they fled what he described as a packed train. Wildish said many of those on board were schoolchildren, who were knocked around as the crowd surged away from the fireball.
At capacity, the train could hold more than 800 people.
"I saw crying women, there was lots of shouting and screaming, there was a bit of a crush on the stairs going down to the streets," Aylmer-Hall, said.
Aerial footage later showed other commuters being evacuated along the elevated track.
The ambulance service said multiple crews had been dispatched to the above-ground subway station.
London's Metropolitan Police said counterterrorism investigators were at the Parsons Green station but it was "too early to confirm the cause of the fire, which will be subject to the investigation that is now underway by the Met's Counter Terrorism Command."
The underground operator said services have been cut along the line.
British Foreign Secretary Boris Johnson says people should "keep calm and go about their normal lives."
London Mayor Sadiq Khan said the city "utterly condemns the hideous individuals who attempt to use terror to harm us and destroy our way of life."
London has been targeted by attackers several times this year, with vehicle attacks near Parliament, on London Bridge and near a mosque in Finsbury Park in north London.
The London Underground itself has been targeted several times in the past, notably in July 2005, when suicide bombers blew themselves up on three subway trains and a bus, killing 52 people and themselves. Four more bombers tried a similar attack two weeks later, but their devices failed to fully explode.
Last year Damon Smith, a student with an interest in weapons and Islamic extremism, left a knapsack filled with explosives and ball bearings on a London subway train. It failed to explode.
In its recent Inspire magazine, al-Qaida urged supporters to target trains.
Separately, French counterterrorism authorities were investigating an attempted knife attack on a soldier patrolling a large Paris subway interchange.
The Paris prosecutor's office says counterterrorism investigators have opened a probe into Friday morning's incident at the Chatelet station in central Paris, based on preliminary examination of the attacker's background.
The knife-wielding assailant tried to attack a soldier with a special military force assigned to protect prominent sites following deadly Islamic extremist attacks. He was quickly arrested and no one was hurt.