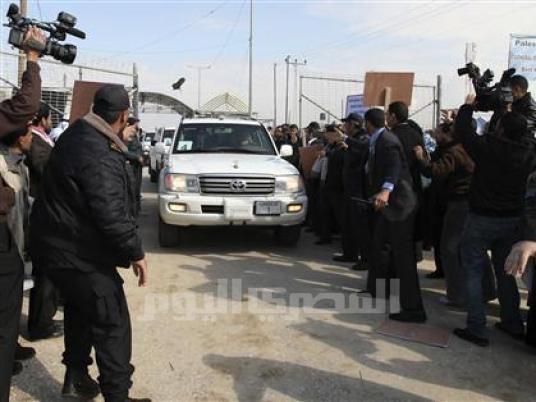 To Pakistan's ruling party, a firebrand cleric camped outside parliament with thousands of protesters is looking more and more like the harbinger of their worst fear: a plan by the military to engineer a "soft coup."
In their eyes, Muhammad Tahirul Qadri seems like the perfect candidate for such a mission. A practiced orator who has electrified crowds with his anti-corruption rhetoric, the doctor of Islamic law leapt into action to back the last power grab by the army in 1999.

The aim this time, some politicians suspect, is to use Qadri to bring down the current administration and provide a pretext for the army to hand pick a caretaker cabinet.
"What we are seeing is dangerous and evidence that unconstitutional third forces are up to their tricks again," said Mahmood Khan Achakzai, a politician who has been a frequent critic of the army's record of interfering in politics.
The military has denied any link to Qadri, and army chief General Ashfaq Kayani has built up a reputation for standing more aloof from politics than predecessors who have not hesitated to dismiss civilian governments. Pakistan has been ruled by the military for more than half of its 65 years as an independent nation.
Critics note, furthermore, that the ruling Pakistan People's Party (PPP), which has a long record of confrontation with the military, has often been quick to portray itself as a victim of bullying by the military to distract attention from its shortcomings.
But the timing of Qadri's return from six years of living in Canada, just a few months before elections are due, and his role in supporting a 1999 coup by former army chief Pervez Musharraf have nonetheless rung alarm bells.
Qadri, who led a convoy of buses carrying thousands of protesters into the capital, Islamabad, on Monday, has repeatedly demanded that the army should have a say in the formation of an interim administration that is due to oversee the run-up to elections in May.
"You meet army officers in the night; I'm asking that you consult with them on the caretaker set up under the sunlight," Qadri said in a speech on Tuesday in remarks clearly addressed to the government.
The PPP's fears over the potential for military meddling center on the impending formation of a caretaker cabinet.
Pakistan passed a constitutional amendment last year that requires the government and opposition to agree on the composition of the temporary administration.
The amendment is designed to prevent any ruling party exploiting the advantages of incumbency to manipulate elections by using state power to skew the playing field.
The PPP and the Pakistan Muslim League, the main opposition party, have spent months negotiating a list of mutually acceptable names for the transitional cabinet, including a number of politicians noted for resisting military rule.
"The PPP has lost three generations of leaders fighting against dictatorships," said a senior member of the PPP. "You think we will give up now? We will take up this battle at all levels."
Contempt
Military officers privately do little to conceal their contempt for the PPP, whose government has been unable to end militant violence, bring down sharp food price inflation or get the economy on track since it took power in March 2008.
They are also dismissive of the Pakistan Muslim League.
One officer, speaking in a personal capacity, said the army had no desire to seize power but might be forced to play a role as mediator between political factions if the cleric's protests trigger a prolonged crisis.
"If this gets worse, then the army may have to intervene (as a moderator)," he told Reuters.
After years of suspicion and ill-will between the generals and the PPP-led coalition led by President Asif Ali Zardari, Qadri's protests have seemed to signal a shift in the political landscape, with unpredictable consequences.
"We can't say who is behind him. But all we know is that he can't pull this off without backing from someone," Maulana Fazlur Rehman, the veteran leader of the Jamiat Ulema-e-Islam, Pakistan's biggest religious party, said on television.
The political temperature soared even higher on Tuesday when Chief Justice Iftikhar Chaudhry ordered the arrest of Prime Minister Raja Pervez Ashraf in connection with a corruption case. Authorities have yet to carry out his instructions.
An aide to Ashraf said the military was behind this move as well, but the chief justice is known to be independent-minded.
If Qadri succeeds in bringing down the government, then a man whose name had faded from the limelight since he left Pakistan for Canada in 2006 will have sabotaged the PPP's bid to be the first civilian government to complete a full term.
That would undermine Pakistan's struggle to bury the legacy of decades of military dictatorship by building institutions strong enough to resolve the nuclear-armed country's multiple crises.
The military has a track record of picking interim administrations in past decades that have then overstepped their mandates by hounding the army's political opponents or manipulating elections.
Army officers in Bangladesh, which was part of Pakistan until it broke away in 1971, have used a similar approach to appoint a technocratic government to implement reforms.
But some commentators and Western diplomats argue that times have changed and the military has lost the appetite for embroiling itself in struggles with increasingly assertive political parties and a hyperactive media.
"The military has no interest in disrupting the path to elections: in fact their interest is the opposite, supporting the transfer of power from one elected government to another, which is a political milestone in Pakistan's history," said Maleeha Lodhi, a former Pakistani ambassador to Washington.
Much will depend on whether Qadri has enough rhetorical firepower left to persuade his followers to maintain their protest, or whether the government decides to order the police to apply pressure to disperse them.
"There is nothing wrong with raising your concerns and protesting," said Information Minister Qamar Zaman Kaira. "But if you try to hold the capital hostage and disrupt the lives of its people, the law will take its course."