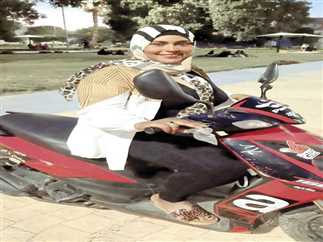 Shaima al-Mahrizy, a 25 year old delivery woman working from Suez – the first ever – has called on women everywhere in Egypt to work in whatever field they wish, no matter how male dominated.
"Work is not a disgrace, and my advice to all girls is to work in any field. You are equal to 100 men together," she said.
Mahrizy, who operates under "Panda" delivery, has been working in home delivery using a scooter for nearly a year and a half due to the lack of job opportunities in Suez, and the heavy reliance on home delivery brought on by the pandemic.
She relies only on social media to reach customers, promoting herself through her own Facebook group.
Speaking to Al-Masry Al-Youm, Mahrizy said that her family opposed the idea of her working in home delivery, as they feared it was an unsuitable profession for women – but she relented and went into the field regardless.
She said that she was subjected to a lot of bullying and harassment from men while driving on the streets of Suez, but firmly stood her ground.

Mahrizy added she dreams of establishing the first home delivery company for women only, specialized in delivering orders to houses in Suez.
Edited translation from Al-Masry Al-Youm