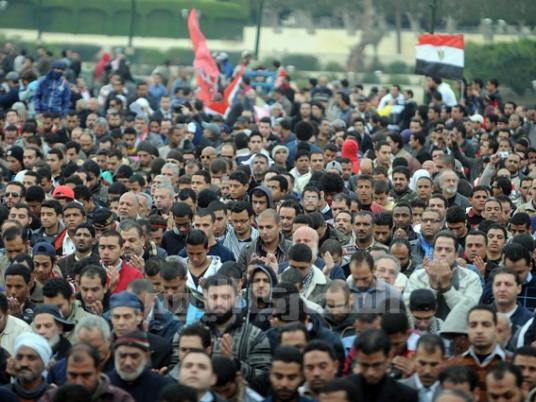 The Freedom and Justice Party plans to announce in a week its final list of candidates for upcoming parliamentary elections, according to party leader Mahmoud Amer.
It will also announce the results of ongoing negotiations to form an electoral coalition with other Islamist parties and political forces, Amer said Sunday.
Party leader Osama Suleiman said the Muslim Brotherhood's political arm would consider fielding Copts, women and young members in the parliamentary elections.
"There will be new faces," he said.
An anonymous party source has also said the Brotherhood is considering nominating FJP President and former People's Assembly Speaker Mohamed Saad al-Katatny for prime minister, in case Deputy Supreme Guide Khairat al-Shater is not accepted. The prime minister is appointed by President Mohamed Morsy, who resigned his positions of leadership with the organization and its party after being elected earlier this year.
Current Prime Minister Hesham Qandil said Sunday that he is coordinating with Morsy on an anticipated Cabinet reshuffle.
Another leadership change came with Ali Fath al-Bab, head of the FJP bloc in the Shura Council, waiving his position to party Vice Chairman Essam al-Erian.
"I am a soldier who cannot reject his commander's orders," he said, referring to Katatny's request. "Erian is more experienced."
Amr Mekky, member of the Salafi Nour Party's supreme body, has said that his party is part of the Islamist negotiations to form an electoral alliance, and that it has also finalized its list of candidates.
Edited translation from Al-Masry Al-Youm