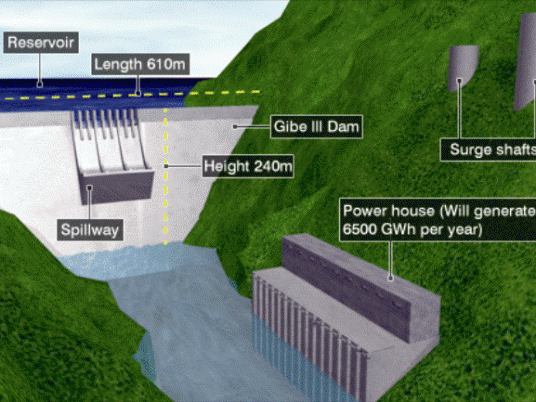 Foreign Minister Mohamed Kamel Amr on Monday said he held "clear" and "constructive" talks with his Ethiopian counterpart, in ongoing attempts to reach a solution to the Grand Renaissance Dam dispute on the Nile.
"This meeting is part of political efforts by (Egypt's) Foreign Ministry to preserve Egypt's water security," Amr said in statements to Egyptian reporters after a first round of talks with Ethiopian Foreign Minister Tedros Adhanom.
A diplomatic source said the most important achievement from Amr's visit to Addis Ababa was putting an end to the war of words between Egyptian and Ethiopian officials.
Adhanom is expected to visit Cairo soon.
The source said Amr and Adhanom had a closed session of talks before they were joined by members of their delegations.
The Ethiopian delegation agreed to implement the recommendations of the Tripartite Commission (comprising Egypt, Ethiopia and Sudan) to carry out further studies into the Blue Nile dam, the source claimed, accounting for Egyptian concerns over water supplies.
Egyptian delegates stressed the pivotal importance the River Nile has for Egypt.
On the possibility of a tripartite agreement to share management of the dam, the source said this was not discussed during talks.
Edited translation from Al-Masry Al-Youm