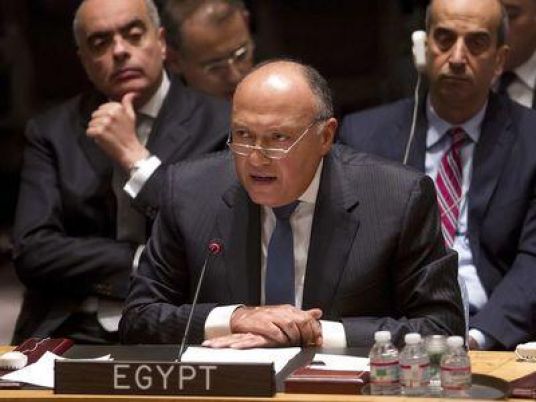 Egypt is intent on supporting the United States-led alliance, to fight Islamic State fighters and other "terrorist" organisations, state-run MENA cited Egypt's foreign minister as saying on Friday.
Egypt remained "steadfast" in its war against terrorism at home and in the region, MENA reported Foreign Minister Sameh Shukri as saying.
Shukri's statements came in a meeting with U.S. Secretary of State John Kerry, on the sidelines of the "Countering Violent Extremism" summit, which concluded on Thursday in Washington.
The US-led coalition was launched last year after Islamic State Fighters gained control of parts of Syrian and Iraqi land in the summer. Egypt did not participate in strikes carried out by the coalition in Syria and Iraq but has chosen to actively fight militancy inside the Sinai Peninsula instead.
On Monday, Egypt's armed forces carried out airstrikes against Islamic State fighters in Libya, hours after a video surfaced showing the beheadings of 20 Egyptian nationals in Libya.
U.S. Secretary of State John Kerry expressed the U.S. sympathy with the Egyptian people on the "brutal murder of 21 Egyptians in Libya."
Shukri also met with U.S. National Security Advisor Susan Rice, who stressed her country's commitment to the strategic partnership with Egypt.