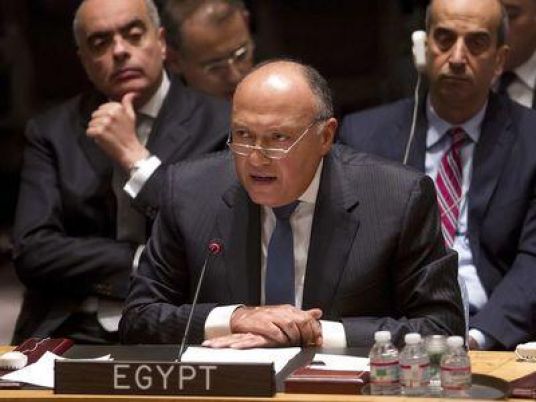 Egyptian Foreign Minister, Sameh Shoukry, met on Monday Kuwaiti Emir, Sheikh Sabah Al-Ahmad Al-Jaber Al-Sabah, and the Deputy Prime Minister of Kuwait, Sheikh Sabah Al-Khalid Al-Hamad Al-Sabah, to discuss growing regional tensions and means to strengthen a unified Arab response to challenges that the region is currently facing.
Shoukry and the Kuwaiti officials discussed regional escalations including the intercepted ballistic missile attack allegedly launched by the Houthis towards Riyadh last Sunday, the bombing of a Bahraini oil pipeline and the political developments in Lebanon following the resignation of Prime Minister Saad Hariri on November 4.
Throughout the meeting, the officials emphasized the need for Arab coordination in order to preserve Arab national security and prevent further regional instability.
Shoukry expressed Egypt's strategy to deal with current challenges through peaceful measures.
During the meeting, they also discussed the Qatar crisis and assessed the situation in Syria, Yemen, Iraq, and Libya, said Ahmed Abu Zeid, spokesperson for the Foreign Ministry.
Elsewhere, the Arab League announced that its Secretary General, Ahmed Aboul Gheit, also met the Kuwaiti Emir on Monday to discuss regional crises.
They discussed the emergency meeting of the Ministerial Council of the Arab League, scheduled to be held on Sunday at Saudi Arabia's request, with the intention of addressing Iranian interference in the Arab region which threatens to undermine Arab peace and security. They also exchanged views on the latest developments in Palestine, including the reconciliation process between Palestinian factions, revealed Aboul Gheit's spokesperson, Mahmoud Afify.
Edited translation from Al-Masry Al-Youm