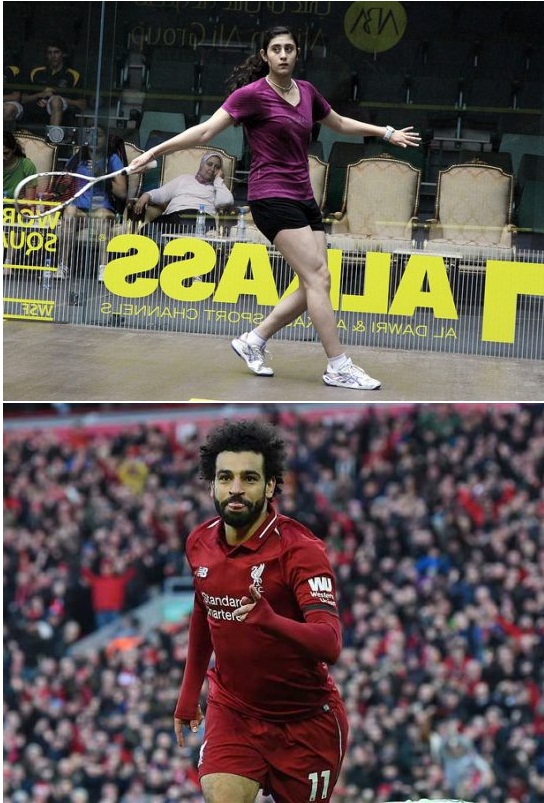 Alongside Egypt's beloved footballer Mohamed Salah, Forbes Middle East has also named Egyptian squash player Nour al-Sherbini, the youngest world champion in Squash among the Young Arab Athletes Making History in an article by Nermeen Abbas, which lists three Egyptians out of four athletes total.
The Forbes list highlights several young Arab athletes who are making sports history both locally and worldwide.
Sherbini, 23, who ranks number two in the PSA World Tour rankings, recently became the youngest three-time winner of the World Squash Championships when she took home this year's trophy.
In the World Championships that took place in Chicago from 26 February to 2 March, Sherbini won four out of five matches. She is also the fifth woman to earn three World Squash Championships titles alongside New Zealand's Susan Devoy, Australia's Sarah Fitz-Gerald, Australia's Michelle Martin, and Malaysia's Nicol David.
Sherbini already made headlines this year after snatching the 2019 JP Morgan title from her Egyptian counterpart Raneem al-Weleily, who ranked number one in the world while Sherbini sits second in the rankings.
Kicking off her squash career at the age of six, Sherbini earned first place at the Women's World Junior Squash Championship when she was just aged 13. A squash player at heart, Sherbini was also only eight when she captured the National Squash Championship.
Furthermore, the young champ defeated prominent English player Laura Massaro, where she snatched the Women's World Squash Championships title in 2016 with victory 3-0.
Of course, Salah's name was on the top of the list. Celebrating the phenomenal accomplishments of the distinguished 26-year-old player, Forbes paid tribute towards Salah's momentous goals alongside the prestigious awards he earned.
Forbes highlighted Salah's miraculous performance in the first two minutes of the Champions League final when he scored a penalty shot in Tottenham's net.
Caling him one of the most recognizable figures in football, Forbes stressed that Salah was behind Liverpool's second UEFA Champions League final consecutively.
Salah is a back-to-back Golden Boot winner. He recently scored the first goal in the UEFA Champions League Final, which ended in a win for the Reds.
Salah scored 32 Premier League goals last season, making it to the finals. The Egyptian star was granted PFA Player of the Year ahead of Manchester City title-winner Kevin De Bruyne.
He also won African Player of the Year for the second year consecutively in 2018. He is the fourth African player to snatch this title back-to-back, following El Hadji Diouf, Samuel Eto'o, and Yaya Touré.
Egypt's Mohamed al-Shorbagy was also named in the Forbes list. He is a leading world champion who won a total of 35 professional titles so far among which three US Open Titles, four Hong Kong Open, two Tournament of Champions and two British open titles, according to Forbes.
Moroccan footballer Achraf Hakim, 20, who was CAF Youth Player of the Year in 2018 was the fourth member of the list, and the only non-Egyptian.