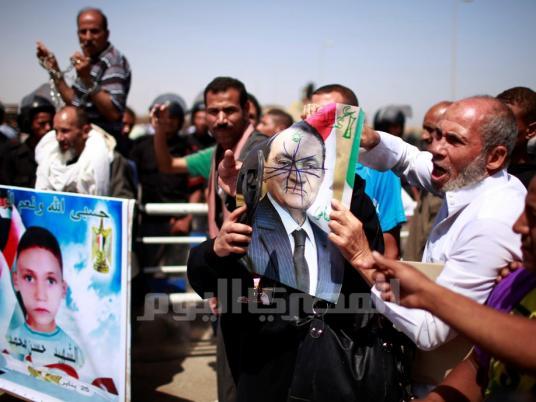 A group of revolutionary and political organizations on Sunday called for the retrial of former President Hosni Mubarak and his "gang," after holding a meeting in Port Said to discuss ways to accomplish the 25 January revolution's goals.
Ten organizations signed the statement, which was published on the official Muslim Brotherhood-affiliated Freedom and Justice Party Facebook page.
"Now it's time to claim our rights and take revenge for our martyrs," the statement said.
Cairo Criminal Court on Saturday sentenced Mubarak and ex-Interior Minister Habib al-Adly to 25 years in prison for complicity in the killings of protesters during the uprising last year. Six former Interior Ministry officials were acquitted of the same charges.
Thousands of protesters demonstrated in Tahrir Square on Saturday against the verdict.
The groups' statement demanded the immediate application of the political isolation law on former prime minister and current presidential candidate Ahmed Shafiq and the handling of accusations currently filed against him. It also calls for the removal of Attorney General Abdel Meguid Mahmoud and the trial of whoever concealed or destroyed evidence in the cases of killing protesters during the uprising.
The statement also listed the groups' demand for the immediate release of all revolutionary detainees and the application of a previously issued law that bans the trial of civilians before military courts.
The FJP, the Salafi-oriented Nour Party, the Muslim Brotherhood, the moderate Islamist Wasat Party, the April 6 Youth Movement, the Revolutionary Socialists, the Socialist Labor Party and the Democratic Front Party signed the statement. Salafis and the campaigns of former presidential hopefuls Abdel Moneim Abouel Fotouh, Hazem Salah Abu Ismail and Mohamed Selim al-Awa also signed.