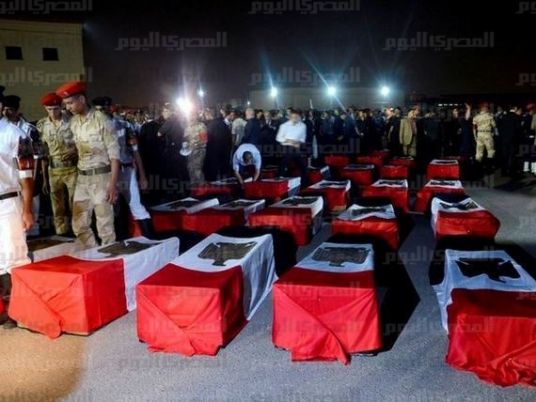 Former Jamaa al-Islamiya figure Nageh Ibrahim said that the terrorist attack against armed forces personnel in Sinai came in response to the recent sentences given to Nasr City and Arab Sharkas terrorist cells, death sentence against Adel Habbara, the main suspect of Rafah second massacre, and killing and arrest of several extremists.
Militants ambushed security forces on Friday in Sheikh Zuwaid, North Sinai in a fierce attack that killed at least 30 and injured others.
Ibrahim added that the incident indicates the presence of groups that are well-trained and equipped as well as highly organized, noting that the group could include former members of the Egyptian military. The attack also points to evidence of an increase of fighters and funding provided to the group responsible, Ansar Bayt al-Maqdis.
Ibrahim added that several groups affiliated to the terrorist Islamic State group came to Egypt in coordination with extremists in Sinai over planning for the terrorist attacks in Egypt, in hopes of destabilizing Egypt like in Syria and Iraq.
"Most of the terrorist groups in Sinai were formed after 25 January revolution during the security failure. There are three camps for extremists. Some elements went to Syria and have now joined the IS," he said.
Regarding the state of emergency declared in areas of North Sinai on Saturday in the wake of the attack, Ibrahim said, "Such an announcement is too late. The armed forces should take the recently issued decisions to eradicate extremist groups. There should be a role for Azhar in the religious awareness among Sinai residents."
Ibrahim blamed terrorism in Sinai on absence of economic development. "Sinai people should not be marginalized or mixed with the terrorists. The government should develop this area. There should be plans for confronting the extremists without harming private properties," he said highlighting necessity of compensation for people affected by the attacks as well as treating Sinai residents as a security shield in the face of terrorism.
Edited translation from Al-Masry Al-Youm