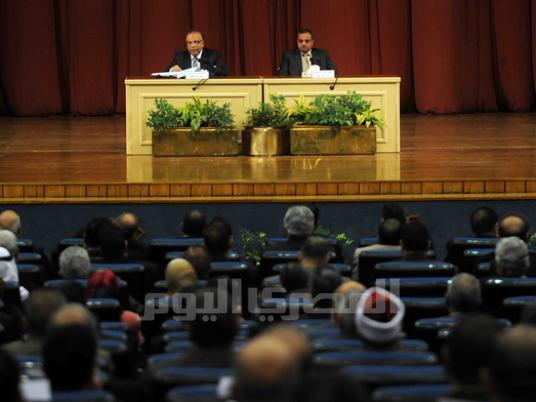 Ibrahim Ramzy, a member of Parliament's Constitutional and Legislative Committee, criticized committee head Mahmoud al-Khodairy and deputy Mohamed al-Omda's attempt to enter Parliament today and hold a committee meeting.
The Supreme Constitutional Court (SCC) dissolved Parliament on 14 June, saying the Parliamentary Election Law was unconstitutional.
"This is defiance of the law. MPs should be a model for discipline," Ramzy said.
He added that MPs, both former and present, should set an example for the people. Khodairy and Omda's attempt to enter the building was intended to make a statement that Parliament was still at work, according to Ramzy.
"This is a message of defiance of the Supreme Council of the Armed Forces," he said.
Ramzy emphasized the need to respect the SCC's decision. "The rulings issued by the Supreme Constitutional Court are binding for all state institutions," he said.
Ramzy also defended the SCAF's supplementary Constitutional Declaration issued on Sunday, stating that the SCAF could form a committee for writing the new constitution if the current Constituent Assembly is challenged before the administrative court and invalidated. Ramzy said the SCAF resorted to this solution after it realized that the parliamentary majority should not be left to draft a constitution that does not represent all Egyptians.
Ramzy added that he expects the Constituent Assembly to be invalidated.
Edited translation from MENA