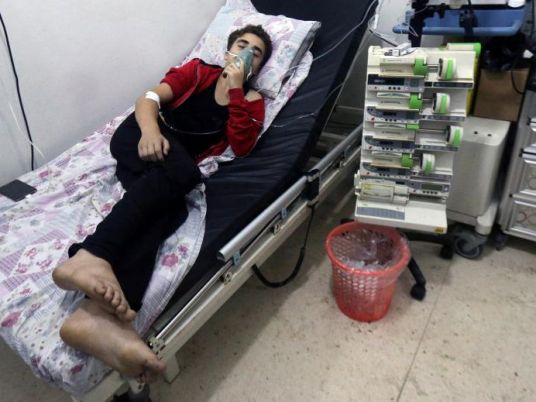 French Foreign Minister Jean-Yves Le Drian told local broadcaster BFM TV on Wednesday that "all indications show us today that the Syrian regime is using chlorine gas at the moment."
It follows Tuesday's report by UN-mandated investigators that they were studying "multiple" allegations of recent chemical weapons use in the rebel-held zones of eastern Ghouta, near Damascus, and in the northwestern Idlib province.
The US has also stated that it has seen "obvious evidence" of recent gas attacks in the two areas.
"I'm weighing my words because as long as we haven't completely documented this we have to stay prudent," Le Drian said. "An investigation has been opened on that matter by the United Nations. The threat of using chemical weapons remains, this is a very serious situation."
Read more: As Syrian war nears end, some can never go home again
Earlier this month, the Syrian Observatory for Human Rights, an independent war monitor, reported that several civilians were being treated for "suffocation" following a series of airstrikes on the rebel-held town of Saraqeb.
Syria had agreed in 2013 to give up its chemical weapons to the Organization for the Prohibition of Chemical Weapons (OPCW). However, both the UN and the OPCW have said the Syrian government has used sarin and chlorine gas weapons in the past two years, an accusation Damascus has repeatedly denied.
French red line?
Shortly after taking office last year, French President Emmanuel Macron warned that chemical attacks in Syria would constitute a "red line" for France.
However, when pressed on how France intended to respond to the allegations of chlorine gas use, Le Drian stopped short of advocating military retaliation.
Instead, he pointed to the so-called "partnership against impunity," a cooperation among 24 countries that ensures the perpetrators of chemical attacks are held accountable.
Iran and Turkey violating international law in Syria
Le Drian also offered France's most strongly-worded response yet to Turkey's involvement in the Syrian conflict.
While he said it was understandable that Turkey would want to protect its southeastern border to Syria, the French foreign minister stressed that "ensuring the security of its borders does not mean killing civilians and that should be condemned."
"In a dangerous situation in Syria, (Turkey) should not add war to war," he said, adding that international law "is being violated by Turkey, by the Damascus regime, by Iran and those who are attacking eastern Ghouta and Idlib."
Turkey launched its offensive, dubbed Operation Olive Branch, on January 20 with the stated aim of hitting positions held by the Kurdish People's Protection Units (YPG) and "Islamic State" militants, although IS is not known to have a presence in Afrin.
Turkey views the main Kurdish militia as an extension of the Kurdish insurgency it has battled for decades. The United States, however, sees the YPG as the major force within the alliance of Syrian Democratic Force, a Washington-backed military group propped up to fight IS.
The onslaught has so far left around 15 Turkish soldiers and 120 YPG fighters dead. Just over 100 civilians have been killed since the campaign began.