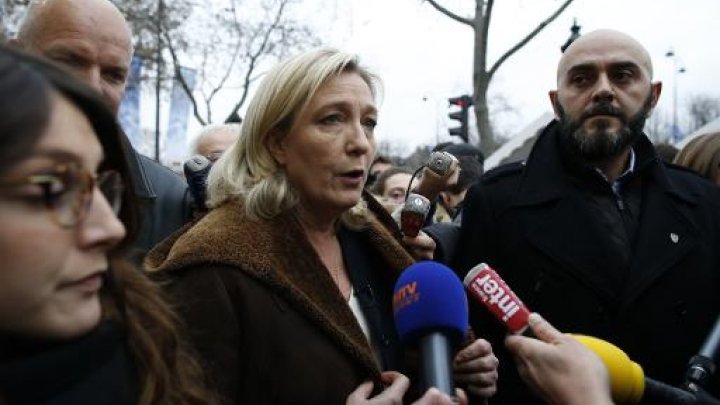 Ex-president Nicolas Sarkozy's conservative UMP and its allies edged out the National Front to place first in local polls on Sunday, with President François Hollande's Socialists – beset by economic woes and record unemployment – coming in third.
The result is a setback for National Front leader Marine
Le Pen
, who had hoped her resurgent anti-immigrant, anti-EU party would emerge on top in the first round, making her a serious presidential contender for 2017.
According to the latest tally the UMP and its allies secured 32.5 percent of the national vote, ahead of the National Front (FN) with 25.35 – about 0.5 percentage points above its showing in European elections last year.
Pre-election polls had the right and hard-right groupings neck and neck.
"The National Front has done 10 points better than it did in the 2011 local elections but its progress has stalled. It seems to have reached a ceiling," said Bernard Sananes, head of the polling organisation CSA on national news network BFMTV.
As expected, President Hollande's ruling Socialists came third with around 22 percent of the vote, underlining their unpopularity after failed promises to bring unemployment down from current levels around 10 percent.
"This first round demonstrates the French people's profound desire for change," a jubilant
Sarkozy
, who lost the presidency to Hollande in 2012, told reporters. "They feel they have been lied to for the last three years."
"The conditions for a massive swing back to the right and the centre are in place," he added.
No UMP-FN alliance
Sarkozy immediately ruled out any alliance between his party and FN candidates in next Sunday's second round.
"To those who voted National Front, we understand your frustrations," the UMP chairman said at party headquarters on Sunday.
"But this party will not solve France's problems – it will only make them worse," added the ex-president, who came out of retirement last year and hopes to secure the 2017 presidential nomination for his bitterly divided party in primaries next year.
The FN led the first-round vote in 43 out of 98 "departments" – which have power over local issues such as school and welfare budgets – according to interior ministry figures.
The far-right party is expected to go through to the second round in more than half of the 1,100 "cantons" – an administrative division below "departments" – that will vote again in a week, an AFP analysis of the data showed.
FN gains at risk in second round
Despite failing in its ambition to come top in the first round, the tally marked strong gains for the FN from previous elections. The party wants a return of the Franc, drastically reduced immigration levels and a referendum on capital punishment.
The FN surfed a wave of disenchantment with established parties to emerge top in last year's European Parliament elections and won control of a dozen city halls in a separate ballot.
Le Pen remained characteristically upbeat as the first results came through, insisting that the strong vote for her party had sent a clear message to the establishment, and that "those who have brought France to its knees will be getting their marching orders".
She also called on France's Socialist Prime Minister
Manuel Valls
to resign after his party's poor showing. Many opinion polls had predicted a complete rout for the party.
In remarks to reporters, Valls countered that "the game isn't over yet" and called on all voters to turn out in next week's second round to support "republican" candidates, a reference to almost any party – including the UMP – to beat Le Pen's FN.
"The republican parties have held their own against the FN," he said. "Even if the score for the FN is much too big, they didn't come in first place. I call on all voters to turn out next week to block the FN in the second round."
Bridging the gender gap
Sunday's first round vote was for local councillors in France's 101 so-called "departements". The departmental councils are filled with councillors from France's 2054 local voting districts.
New rules state that each canton must supply one male and one female councillor in a bid to close the gender gap in French regional government.
Although voter turnout was up from the last local elections in 2011, about half of the country's registered voters failed to cast their ballot.
The two-round nature of Sunday's ballot means the FN is likely to win control in only a handful of departments in second-round vote due on March 29. Many UMP and PS voters are expected to switch allegiance to whatever party can keep the FN out of power.