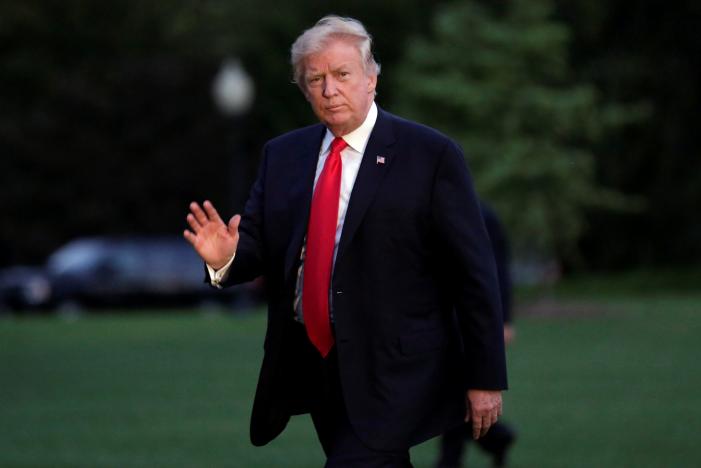 African migrants trapped in Libya must be "evacuated," says French President Emmanuel Macron. Bound for the EU-Africa summit, he told Burkina Faso students that migrant trafficking was a "crime against humanity."
Emmanuel Macron told university students during a wide-ranging speech in Ouagadougou that he would give details of his rescue proposal at the three-day EU-African Union summit starting Wednesday in Abidjan, Ivory Coast.
Africa and Europe must "help populations trapped in Libya by providing massive support to the evacuation of endangered people," Macron said.
Simultaneously, Burkina Faso recalled its ambassador from Libya, saying it was "unacceptable to have slaves in this 21st century."
Macron's remarks follow hidden-camera CNN video footage aired on November 14 that showed the auction of migrant men as slaves in Libya.
In a DW interview Monday, European Commission President Jean-Claude Juncker said until two months ago he did not know the "full extent" of the "outrageous" problem, adding that Europe "will not be silent."
Since July, Italy with EU backing has trained Libyan coastguards to intercept boats from Libya, a transit hub for sub-Saharan Africans intent on reaching Europe.
Aid workers and Mediterranean rescue workers say the large-scale abuse was long known.
In September, UN human rights chief Zeid Ra'ad Al Hussein wrote that an August deal struck in Paris between Europe, Chad, Niger and Libya had failed to "tackle the hidden human calamity" within Libya and along its Mediterranean coast. His office published a report on such abuses last December.
Rowdy discussion
At the rowdy Ouagadougou question-and-answer session with students, Macron also sought to break from the "undeniable crimes of European colonization" by saying he came from a generation that would not tell Africans what to do.
Instead, efforts should focus on bridging ties between African and Europe, Macron said. "I will not stand by those who say the African continent is one of crises and misery."
Answering one student, he said: "You speak to me like I'm a colonial power, but I don't want to look after electricity in Burkina Faso. That's the work of your president."
"I am from a generation for whom Nelson Mandela's victory is one of the best political memories," he added after stones had been thrown at his delegation's vehicles while Macron was visiting President Roch Marc Kabore.
French military 'out'
Dozens of local youths clashed with police and burned T-shirts that carried slogans including "down with new colonialism" and "French military out of Burkina."
Macron told journalists that the G5 Sahel force to counter Islamist extremism — involving Burkina Faso and four other regional nations with French and American backing — was taking too long to get established.
French special forces have been present in the region since 2010 to help tackle jihadist violence, particularly in neighbouring Mali.
Grenade thrown
The threat was underscored on Monday when assailants on a motorcycle threw a grenade toward French soldiers in Burkina Faso's capital, shortly before Macron's arrival. Three civilians were wounded.
From Abidjan, the non-governmental German aid organization Brot für die Welt [Bread for the world] said Ivorian police had blocked entry to an alternative conference venue.
Four hundred delegates had been left unable to finish their discussions, said Reinhard Palm, the head of the Africa section of Brot für die Welt.
Germany's Development Minister Gerd Müller of Chancellor Angela Merkel's post-election caretaker cabinet said "Europe's destiny and future would be decided in Africa" and stressed the need for economic projects such as renewable energy capture.
UNICEF said up to 10 million extra teachers and health workers would be needed in Africa over the next decade as the continent's demographically young population expanded.