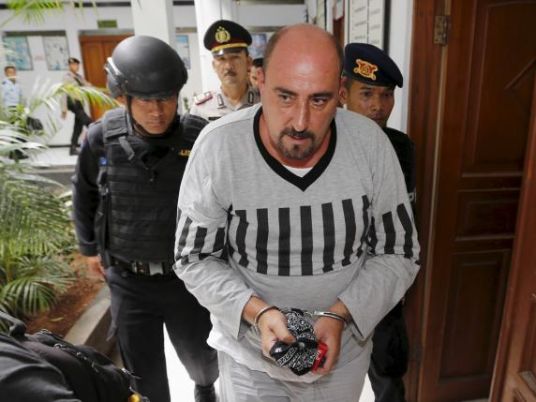 An Indonesian court rejected a French national's last-ditch appeal against the death sentence on Monday, making him the latest foreigner to face execution for drug offences and likely to prompt an angry response from
France
.
Serge Atlaoui had been granted a last-minute reprieve while legal avenues were exhausted and was left out of a group of seven foreign prisoners who were executed on April 29.
President Joko Widodo's refusal to grant clemency despite repeated pleas for mercy has strained Indonesia's relations with a number of countries including Australia,
Brazil
, the Netherlands and Nigeria, which have all had citizens on death row.
Indonesia has harsh punishments for drug crimes but imposed an informal moratorium on executions for five years before resuming in 2013. Under Widodo's term, Indonesia has executed 14 convicts, mostly foreign citizens, so far this year.
Atlaoui has no further legal options but will not be executed during the Muslim holy month of Ramadan, Tony Spontana, a spokesman for the Indonesian Attorney General's Office, told reporters.
"There's no other legal avenues that his (Atlaoui) lawyers can take, therefore the execution will definitely go ahead," added Spotana, who gave no other indication of when Atlaoui might face the firing squad.
"For sure it will not happen in the Ramadan month."
Atlaoui's lawyer, Nancy Yuliana Sunjoto, said his legal team would still look for other legal channels.
"We are disappointed with this outcome," Sunjoto told reporters outside the state administrative court in Jakarta.
"From the beginning, we have known that he didn't do anything wrong," she said.
A French embassy official at the court declined to comment on the ruling. French President Francois Hollande warned Indonesia of diplomatic consequences last month should Atlaoui's execution go ahead.
Atlaoui was arrested in a raid on a factory producing ecstasy pills on the outskirts of the capital, Jakarta, in 2005. He has maintained his innocence, saying he thought he was working in an acrylics factory.
"He didn't know anything about the chemicals. He's just a welding technician," Sunjoto said.