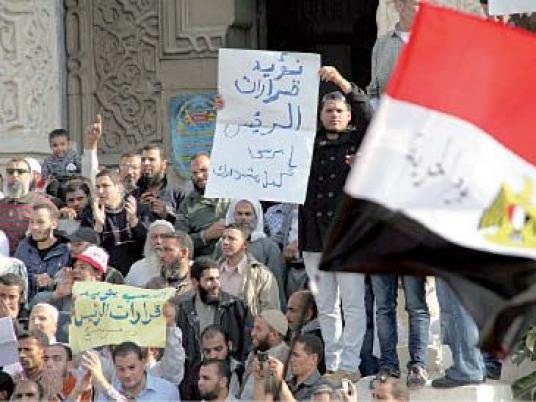 Political factions are gearing up for protests this Friday over unemployment and recent calls for a return to military rule.
In Minya, the 25 January Movement announced Thursday it was organizing a march and demonstration to demand job opportunities and employment security.
Mohamed Mokhtar, the movement's coordinator, urged local residents, political parties and activists to participate in its march to Palace Square and a second march in the afternoon to governorate headquarters.
Meanwhile, the April 6 Youth Movement called for its own protest in Hurghada to press for greater freedoms and employment initiatives targeting young people.
In a Thursday statement, the movement said President Mohamed Morsy was shirking blame for the country's economic troubles, and instead categorically placing Egypt's woes on former leader Hosni Mubarak's administration.
The April 6 Youth Movement in Beni Suef asked residents to boycott planned rallies calling on the Armed Forces to seize power from Morsy's government.
Coordinator Ehab Khater said although Morsy's government has lost the public's confidence, that is no reason to return to military rule, which is responsible for decades of oppression.
He added that the military's role is to protect the country and only a civilian-led administration can put the nation on the path to democracy.
Edited translation from Al-Masry Al-Youm