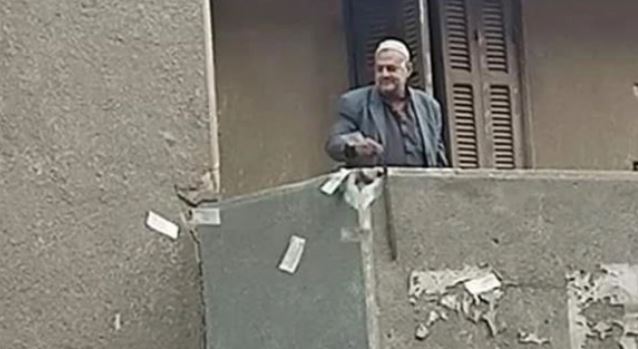 The Egyptian man who passed out money from his balcony says will sue those who defame him through social media for libel.
A video clip that went viral on social media earlier this week shows retired engineer Sabry Sadoma throwing banknotes from his balcony at a crowd gathered at his house.
Sadoma denied rumors that he was arrested earlier on Wednesday, saying that he is at home in Ausim, Giza, and that police have not summoned him.
In statements to newspaper al-Wafd, Sadoma said he has, before the latest incident, distributed money to his neighbors and the people of his town about five times, and he is happy when he sees the joy of people when they get the money.
Nadia Ahmed, Sadoma's wife, said that she objects to what her husband is doing, and she thinks that there are more and better ways to spend the money for charity, such as hospitals and charities.
Nadia said that he began handing out money in front of their home at first, and when a crowd appeared, he moved to the balcony.
Nadia is the second wife of Sadoma, and they have three children. Sadoma has four children from his first marriage, according to Wafd newspaper.
Social media users form Ausim said that the man is a wealthy petroleum engineer and this is not the first time that he has thrown his money from the balcony.
The privately-owned al-Watan newspaper said that he became very famous in the area because of this strange behavior.
Sadoma has also allegedly throw bottles of water at passersby from his balcony, according to al-Watan.