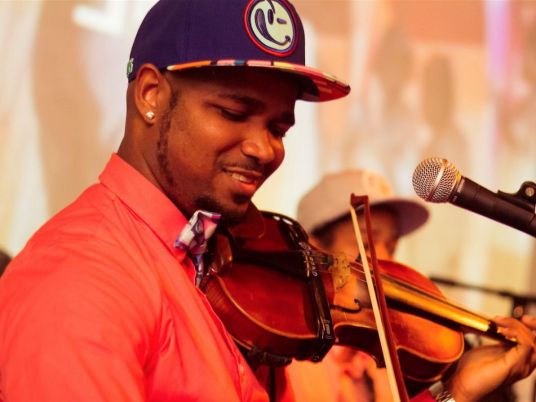 This October marks the eighth edition of the annual and on-its-way-to-being-iconic Cairo Jazz Festival. To be held at the American University in Cairo's Greek Campus in Bab al-Luq, Downtown, the festival will span three days and host well-known jazz acts from 12 different countries.
Jazz fans are in for a hearty portion of jazz in all its varieties. With over 100 acts expected to perform, the three-day event promises to be a global musical pow-wow, attended by high-calibre jazz musicians from Germany, Denmark, Holland, Bahrain, Portugal, Japan, Hungary, Panama, Poland, Austria and the Czech Republic. There are also a number of local jazz acts, such as the Shady El-Qaseer Group and Hamza Namira.
The Greek Campus will be divided into two performance areas — the Main Stage and the Library — with performances taking place on both stages simultaneously. The program of events shows a packed schedule of workshops and performances.
The festival kicks off at 7 p.m. on Thursday night with a reception ceremony, with the ambassadors of the participants' nations attending to show their support for the cultural exchange between their nations and Egypt. Egyptian musician Amr Salah will deliver an opening address, followed by the first act, Bahraini group Likwid, featuring Bahraini musician Alaa Ghawas.
The first day will also feature a performance from one of this year's more prominent names, the Austrian trio Rom-Schaerer-Eberle, whose performance is co-sponsored by the Austrian Cultural Forum and the Swiss Embassy in Cairo. Portuguese acts Carmen Souza and the Theo Pascal trio will close the first day of the festival.

Carmen Souza
Friday will be much longer, running from 12.30 p.m to 10 p.m. Kicking off the second day will be several events and workshops aimed at children, so festival-goers can bring their kids along to learn a thing or two about jazz. There will also be a couple of short performances by younger jazz musicians, all aimed at introducing jazz to children who may otherwise be left wondering why jazz musicians never play the right notes. The children's portion is entitled, Jazzinino. There will also be jazz workshops, thanks to Dr. Sami Ibrahim, professor of jazz piano and the Cairo Conservatoire.
One of the more well-known acts set to perform on the second day are German jazz powerhouse Andromeda Mega Express, made up of 20 musicians from seven different countries, all residents of Berlin. The group is celebrating its tenth anniversary this year. The performance is sponsored by the Goethe Institut and the German Embassy.
Young Japanese saxophonist Saori Yano is also set to perform on Friday. Yano has gained ample popularity for her performances of several of jazz's more energetic sub-genres, such as bebop and swing. The definitely looks to be one of the highlights of the second day.
Also playing on Friday is Dutch chromatic harmonica player, Hermine Duerloo, an international artist who has played all over the world with some high-profile names. Joining Duerloo on stage will be jazz piano legend Rembrandt Frerichs, who will be delivering a performance with his eponymous trio as well. He began his music career in Egypt, where he was a music teacher in the 1990s, and he is now back at the height of his career for a performance that could prove to be quite nostalgic, both for him and for his fans in Cairo.

Tara Fuki
The second day concludes with a performance by H.O.H, a new jazz group that unites three of Egypt's more well-known alternative musicians: actor/vocalist Hany Adel from fusion band Wust El Balad; vocalist/guitarist Hany al-Dakak from Masar Igbari; and guitarist Ousso, who has not done any prominent work himself but has worked with several Cairene acts, such as Eftikasat and Nagham Masry, which he co-founded.
Jazz supergroup the Pan-African Project will start Saturday's events, delivering jazz in some unusual colours. The group is a cultural exchange between Panama and Egypt and is sponsored by the Panamanian Embassy in Egypt, as well as the Danilo Perez Foundation. The Panamanian portion of the group are three professors of Latin Jazz at the National Academy of Music in Panama. They will be joined by a large group of Egyptian jazz musicians, including singer Amy Frega and pianist/composer Hesham Galal. The festival is aiming to increase connectivity between Egyptian and foreign musicians, so they might fortify the cultural rapport between them and ultimately make them better musicians.
The festival's fourth edition was the first to feature international musicians, whereby it hosted experimental jazz legend Han Bennink, who is world-famous for his prowess as a percussionist. Bennink was joined on stage then by Hany Adel, Noha Fikry and Amr Emam, among others. The following year, the festival had the honor of hosting Lebanese legend, Ziad Rahbani, whose mother is Arab music titaness Fairouz.

Shady El-Qaseer
This year marks the first Polish participation in the festival, with Atom String Quartet set to deliver a performance on the final day. The quartet won the Fryderyk Award three consecutive times, an award that Poles consider equal to the Grammy or the Brit.
Returning for the fifth consecutive year is Egyptian jazz singer Noha Fikry, who will be joined on stage by Amr Salah on the piano, Ahmed Ragab on bass and Ramy Samir on percussion. Salah is the president of the festival and is a prominent musician himself and has performed with Fikry before.
The final performance will be Hamza Namira, who has been praised for his smooth stylings and was dubbed by Al-Ahram "The New Sayed Darwish". Namira will be launching his new album "Esmaany" at the festival.
The festival is sponsored by the Tourism Board and is aiming to help restore faith in Egypt as a tourist destination. Post-performance events are being organized for the performers around Cairo, as well as nights out at the Semiramis Intercontinental and Cairo Jazz Club.
All in all, it looks like an eventful weekend, with much to see and hear, both for jazz fans and those who don't normally like jazz. A lot of time, money and effort have been spent to make sure the festival is a cultural event, a social one and an artistic experience you probably shouldn't miss.