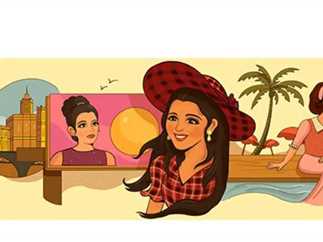 Google celebrates the 79th birthday of Egyptian cinema star Soad Hosny on January 26.
Hosny, affectionately remembered as Egypt's 'Cinedrella', is one of the most important stars in the history of Arab cinema.
She worked in cinema at a young age, at the age of sixteen with her debut being "Hassan w Naima" (Hassan w Naima) in 1959.
Souad Mohamed Kamal Hosny al-Baba was born in Bulaq, Cairo, on January 26, 1943. She had sixteen brothers and sisters, and was the tenth among them. Her half-sister is famous singer Nagat al-Saghira.
Her mother separated from her father when she was five years old, and her mother was married to her second husband, an education ministry inspector.
Hosny's talent was discovered by the writer Abdel Rahman al-Khamisy. Director Henry Barakat then included her in 1959 for the crew of his film "Hassan w Naima" to play the role of Naima.
She starred in many famous Arab films such as "Eshaat Hob" (A rumor of love), 1961, "Al-Thatha Yohebonaha" (The three love her), 1966, "Mafish Tafahom" (No Understanding), 1961, "al-Sabaa Banat" (The seven girls), 1961, "al-Ashqeya al-Thalatha" (The three naughty ones), 1962, and "Shabab Magnoon Geddan"(Youth Gone Haywire), 1967.
Other milestones in her career include: "El-Qahera 30″ (Cairo 30), 1966, "Be'r al-Herman" (Well of Deprivation), 1969, "al-Hob al-Daee" (Lost Love), 1970, "Shrouq w Gheoub" (Sunset and Sunrise), 1970, "Khali Balak mn Zozi" (Take care of Zozo), 1972, "Al-Zoaga al-Tania" (Second Wife), 1967, "Shafiqa w Metwally", 1979, "al-Karnak", 1975, and "Saghira ala al-Hob" (Too Young for Love) 1966.
"al-Raee wal Nisaa" (The Shepherd and the Women), was her final work in 1991 and co-starred Yousra and Ahmed Zaki.
She died at the age of 58 in London, on June 21, 2001 after falling from a balcony. Her death sparked a controversy that did not subside, with doubts that it might have been accidental.