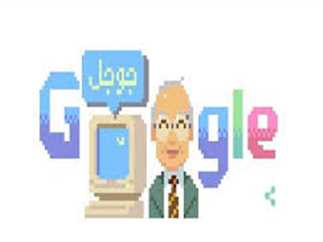 Google celebrated on Friday the birthday of late Egyptian scientist Nabil Ali, a pioneer in computational linguistics who helped introduce the Arab world to the Information Age through programs enabling computers to understand Arabic in digital form.
The search engine's Arabic language homepage featured an animated drawing of Ali, or Google Doodle.
The late scientist was was born on January 3, 1938 in Cairo and passed away four years ago.
Google said in a statement that it was celebrating Ali's 82nd birthday, commending his "innovations in the field of computational linguistics, (which) propelled the Arab world into the Information Age."
Ali earned a doctorate in aeronautical engineering in 1971 and worked for years in the Egyptian Air Force, later devoting himself to working with computers.
The late scientist worked in the 1980s with the Sakhr Software Company, now a global leader in Arabic language technology. Among his contributions to the field of digitization of the Arabic language are the creation of the first program for the Holy Quran, as well as the development of a lexical database for Arabic.
Ali published a number of books, scientific research papers and technical reports related to the computerization of languages throughout his career. He won the King Faisal Prize in Saudi Arabia in 2012, the Cairo International Book Exhibition Award in 2007, the award for the best book on the challenges of the age of information in 2003, and the best book in the category of future studies in 1994.
Ali passed away on January 27, 2016 at the age of 78.
Edited translation from Al-Masry Al-Youm