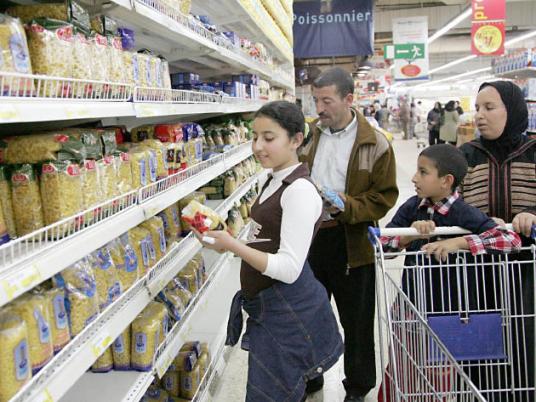 In light of current high inflation rates, which rose an alarming 0.7 percent, the interim government launched a new price reduction plan, aimed at lightening the burden of the rising food prices and motivating purchasing power to overcome the current economic situation.
The government allocated $22 billion for a stimulus plan to be implemented within six or seven months, according to Finance Minister Ahmed Galal.
The plan seeks to start new projects, provide basic commodities, guarantee necessary fuel and food, and ensure citizens' access to goods and services.
The plan also aims to reduce the price of basic food items provided at state-owned outlets by 10 to 15 percent.
Galal noted that this program will be partially funded by US$12 billion in aid from Gulf states, as already US$6 billion worth of grants had been pumped into the general budget. In addition, the zero coupon bonds have recently been offered by the government to bolster the cash reserves in the Central Bank of Egypt (CBE), after the government returned the Qatari US$2 billion deposit.
Expert's disappointments
"Its nonsense and not scientific," said Bassant Fahmy, a banking expert, criticizing the stimulus plan.
Fahmy explained that the government did not disclose the real fund of the stimulus plan, as she believes that "deposits" and "Gulf aid" are still debt and could never belong to the state's coffers. She said that those funds would be more beneficial to Egypt in the form of investments or in providing liquidity.
"To kick off an economic promotional plan, the government should independently fund it, but now we are living through an economic malaise," Fahmy noted.
However, Magdy Toulba, an economic expert said despite that Egypt passing through hard times and that all plans are welcome to pull Egypt out of the slump, Toulba believes it is difficult to implement this plan because Egypt is already suffering a critical financial deficit.
Price cuts ahead of Eid Al-Adha Holiday
The Ministry of Investment released a statement last week announcing a 10-15 percent price cut for all food commodities for 10 days starting 10 October 2013 to coincide with the Muslim celebrations of Eid El-Adha.
Investment Minister Osama Saleh called on the Food Industries Holding Company (FIHC) to provide food necessities including sugar, flour, macaroni, rice and various cooking oils.
Saleh also noted that the new price cuts include local and imported meat prices.
Hassan Kamel head of FIHC told Egypt Independent that all government food outlets are preparing to implement the new price scheme starting October. Kamel emphasized that all food commodities will be included.
"The food outlets are preparing to implement the government program within the coming months. Moreover, we are going to allocate 10 days of discounts a month, including variable items with 15 percent off," said the head of government food outlets, Tarek Shaalan.
He added that the government is relying on the government food outlets to achieve a balance in food prices, develop the outlet branches and increase their investment plans to open more branches across country.
Back to school 'private sector' offers
Coinciding with the new school year and in support of the government's plan, CBC, a private satellite channel, called on businessmen and their companies to offer discounts, announcing that it also aims to support poor and low-income people.
The CBC campaign met a positive response from businessmen and food traders. Essam Kamal, marketing manager at Awald Ragab, emphasized that the company frequently makes special offers in its 35 branches but said that they would now offer 50 percent discounts on all school items and 5 percent on other items for almost two weeks starting 17 September.
While, Ahmed Al-Bostani, member of the board of directors for Hyper Market, said the company seeks to offer good prices and quality and, in solidarity with the state's current circumstances, would offer a 50 percent price cut campaign for 10 days in its 6th October and 10th of Ramadan branches on all school commodities.
In addition, Ashraf Al-Morshedy, CEO of Morshedy, said that the company would offer a 15 percent discount on school items and furniture.
Youman Hamaky, economic consultant of the Mansour Group which owns the supermarket chains Metro and Khier Zaman as well as Labanita milk, told Egypt Independent that they already offered 10-15 percent price cuts on school food items such as milk starting 10 September until 5 October.
Hamaky praised the new government's mechanisms and believed that cooperation between the government and the private sector could be more beneficial to Egypt.
Hamak noted that the Khier Zaman supermarkets usually offers low prices and that Mansour's pricing policies frequently offer discounts on select items in difficult periods to financially support Egyptians.
"Our campaign lasted for 25 days which is unprecedented, but I believe Mansour is not able to extend the offers to Eid Al-Adha," she said.
Mansour group offered cut prices on Labaneta milk in the government food outlets.
Local Transportation discounts
The government will also implement price cuts in local transportation services offered by the Holding Company for Maritime and Land Transport (HCMLT).
HCMLT offers bus services through its East Delta, West Delta and Upper Egypt lines.