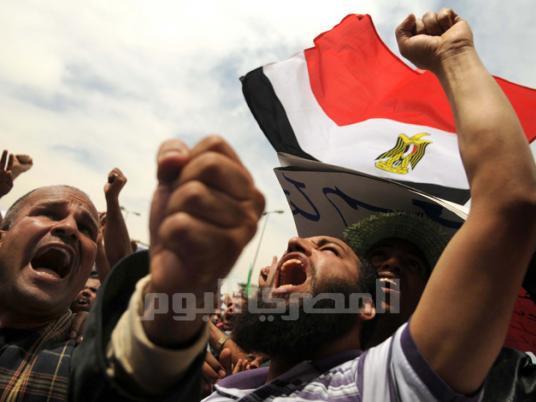 After official denials from the Muslim Brotherhood, a government minister and prominent group member has acknowledged the existence of "Brotherhood group 95," an entity accused of perpetrating violent acts during the revolution.
Youth Minister Ossama Yassin Abdel Wahab said in a press statement Thursday that young people of different affiliations formed groups to protect revolution protesters in 2011, one of which was called "Brotherhood group 95."
"How is it that protectors turn into defendants?" asked Abdel Wahab, who has reportedly been accused of leading the group in killing protesters.
The Muslim Brotherhood and its political arm, the Freedom and Justice Party, issued a statement last week saying no such group existed.
The minister said he was willing to testify before investigators about the group, but has not received an official summons from prosecutors.
Prosecutor General Talaat Abdallah formed a team of 21 prosecutors Wednesday to review an 800-page report that allegedly contains new evidence regarding the 2011 killings. A fact-finding committee President Mohamed Morsy tasked with investigating protester deaths issued the report accompanied by video evidence.
The report implicates ousted President Hosni Mubarak, as well as army and police leaders, in the murders of protesters during the demonstrations that forced Mubarak to step down after 30 years in power.
Complaints submitted to the fact-finding committee reportedly accused Abdel Wahab of leading group 95 in its deadly mission of killing protesters, citing an interview he gave to Al Jazeera in 2011 as evidence. Abdel Wahab claimed during the interview that he accompanied a group of youth onto rooftops to prevent stones from being thrown at revolutionaries. Other testimonies have alleged that Brotherhood members were standing on roofs overlooking Tahrir Square, though it is unclear what role they played in the violent clashes, if any.
Edited translation from Al-Masry Al-Youm