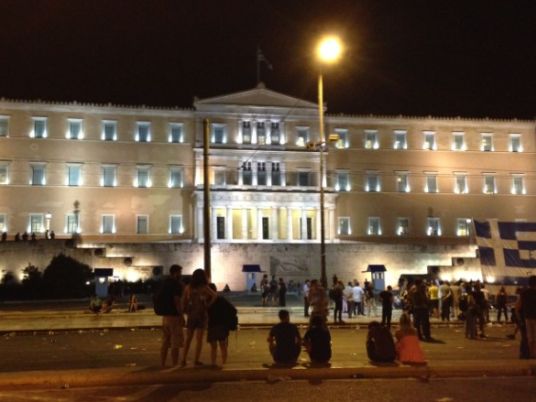 The Greek government criticised rebels within its ranks intent on opposing a new bailout deal in Thursday night's parliamentary vote, saying a government without a majority "cannot go far" and raising the possibility of early elections.
With opposition support, parliament is preparing to approve the 85 billion euro bailout deal that Greece needs to avoid defaulting on a debt repayment next week.
The agreement is expected to easily pass since opposition parties have promised to support Prime Minister Alexis Tsipras to ensure Greece does not return to financial chaos. But the vote will test the strength of a rebellion by anti-austerity lawmakers of Tsipras's leftist Syriza party, which could raise pressure on him to call snap elections as early as September.
Government spokeswoman Olga Gerovasili said that after the parliamentary vote, the focus would shift to a meeting of euro zone finance ministers on Friday who must also back the bailout, Greece's third in the past five years.
However, she acknowledged there would be a parliamentary rebellion and signalled that the government would struggle in the coming months if Syriza remained disunited.
"It is known that some Syriza lawmakers will not vote in favour of the accord," she told Mega TV. "A government that does not have a governing majority cannot go far."
Far-left members of Syriza insist the government should stand by its promises on which it was elected in January to reverse waves of spending cuts and tax rises imposed since 2010, which have had a devastating effect on an already weak economy.
The rebels, who include some former ministers, have already voted against the government on the austerity deal, angered by Tsipras's capitulation to the creditors' demands as Greece edged close to an economic precipice last month.
As Greece needs the deal to make a 3.2 billion euro debt repayment to the European Central Bank on Aug. 20, Tsipras asked parliamentary speaker Zoe Konstantopoulou to expedite debate on the bill approving the bailout.
Konstantopoulou, a Syriza hardliner who opposes the deal, responded by calling a series of parliamentary committee meetings to consider the bill on Thursday, delaying the start of the plenary debate that is likely to last well beyond midnight before the vote is held.
CREATING DISHARMONY
Gerovasili made clear the government's displeasure. "Ms Konstantopoulou has her own ways," she said. "There are two differing views which are creating disharmony."
Pressed on speculation that Syriza might formally split, leading to elections in the autumn, she said: "It is possible that in the future there could be procedures to seek a new mandate from the people… This will happen when there is an assessment that there must be fresh elections."
Tsipras has said Syriza will hold a special congress after the summer to debate its differences.
Months of bitter negotiations between Athens and its euro zone creditors have badly hurt an economy which last year had been pulling out of a long depression before returning to recession this year. Data due out on Thursday is expected to show that the recession deepened in the second quarter of this year.
Economists expect gross domestic product fell at least 0.8 percent in April-June. Things are likely to have worsened since then as the government imposed capital controls on June 29 to save the Greek banking system from collapse.
With Greeks limited to withdrawing 420 euros a week from their accounts and businesses subject to severe controls on payments, the economy is taking another hit. The controls are unlikely to be fully lifted until the banks are recapitalised, encouraging Greeks to return cash they are keeping under their mattresses to their accounts.
Under the bailout deal, Greece must take steps to tackle the mountain of bad loans weighing on the banks.
The legislation before parliament also covers tax and pension reform, public administration reform, the relaunch of a privatisation scheme which stalled earlier in the year and the establishment of a wealth fund for privatisation projects which will be supervised by European institutions.
According to the 29-page memorandum of understanding Greece agreed with creditors, a copy of which was obtained by Reuters, Greece must move to rapidly privatise its ports, regional airports and its power grid operator.