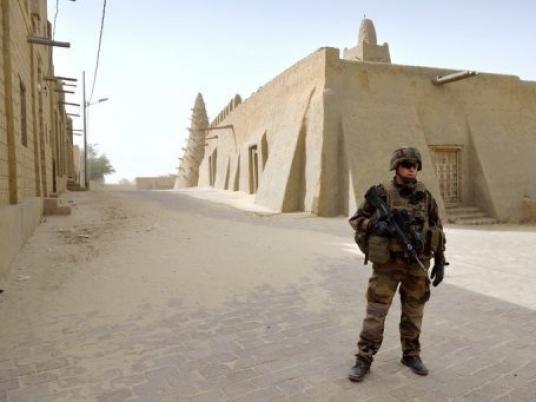 Heavy gunfire erupted Sunday in Timbuktu as Malian troops were combing the city for infiltrated jihadists following a suicide attack, a military source and residents said.
The Islamist fighters who had controlled the fabled Saharan city before French and Malian soldiers recaptured it in January have been able to blend into the population to launch attacks.
"Our men have since Sunday morning been firing in central Timbuktu in a sweep for jihadis who infiltrated on foot and on bicycles," a Malian officer told AFP.
Several residents spoke of intense gunfire in Timbuktu, with operations apparently focusing on the Mahamane Alassane Haidara school and the military base.
French troops are based at the city's airport.
"There's nobody in the streets, we really have no idea who's firing … I am told that the jihadists have infiltrated the town and that the army is hunting them," said a teacher, speaking to AFP by phone from Timbuktu, who asked not to be named.
On Saturday, a suicide bomber blew himself up when he tried to force his way through a military barricade at the western entrance to Timbuktu, wounding a soldier manning the checkpoint.
Mali has been the target of a series of attacks claimed by Islamist insurgents since France launched on 11 January a military intervention against Al-Qaeda-linked groups that had seized the north of the country.
The French-led operation has forced the extremists from the cities they had seized for 10 months in the chaotic aftermath of Mali's military coup in March 2012.
But French and African forces have faced continuing suicide blasts and guerrilla attacks in reclaimed territory.
On 21 March, a suicide bomber blew up a car near the Timbuktu airport, launching an overnight assault on the city.
The blast killed one Malian soldier. Around 10 Islamist fighters were killed in the ensuing fighting with French and Malian forces, a French army spokesman said.
The attack was claimed by the Movement for Oneness and Jihad in West Africa (MUJAO), one of three Islamist groups that had seized the north.
MUJAO said it had "opened a new front in Timbuktu," which had not come under attack since French-led forces entered the city on 28 January — unlike Gao, which has been hit by a string of suicide bombings and guerrilla attacks.
A landmine blast killed two Malian soldiers near Gao on Saturday.