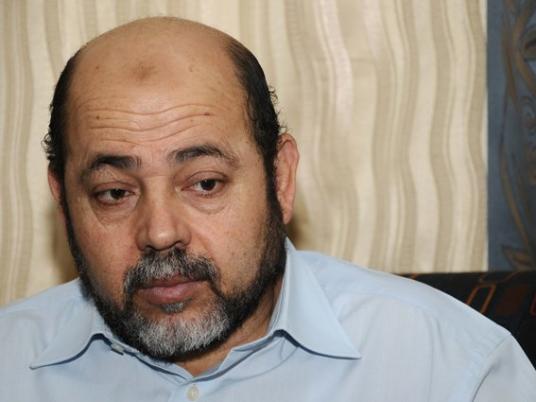 Hamas Politburo vice Moussa Abu Marzouq doubts Egypt will carry out military intervention to support any rebellion movement in the Gaza Strip.
Independent Palestinian news agency Sama quoted Abu Marzouq on Thursday as saying: "The Egyptian army is patriotic. It's present in Sinai according to [defined] agreements. Egypt will never deal with [the] Palestinian people from a perspective that violates its patriotic stances toward the Palestinian cause."
"Gaza was included within the Camp David agreement. It was a chance to free Gaza within the liberation of Sinai," he added.
"The situation in Egypt is totally different from the one in Gaza," the Hamas official continued. "There's no comparison between them. Hamas is a patriotic resistance movement. Its popularity brought it to power."
Abu Marzouq reiterated that Egypt and Hamas are not enemies. "We need Egypt and its efforts," he claimed. "We will never think about being an enemy of Egypt or its people, or intervene in its affairs."
Foreign Minister Nabil Fahmy warned on Tuesday Hamas could face a "harsh response" from Egypt if the Islamist movement threatened the country's national security.
In an interview with pan-Arab daily al-Hayat, Fahmy said the response "will be harsh if we feel that elements within Hamas or other parties are trying to attack Egyptian national security."
It would include "military and security choices and not options that would cause Palestinian citizens to suffer," said Fahmy.
Ties between Cairo and Hamas have deteriorated since the army ousted Islamist President Mohamed Morsy in July. Morsy belongs to the Muslim Brotherhood which is affiliated with Hamas.
The Palestinian movement fears that Egypt's destruction of tunnels used to smuggle goods into Gaza is part of a plan to tighten a blockade of the enclave.
The Egyptian army has said the destruction of the tunnels is part of a crackdown against Islamist militants in the Sinai Peninsula who have links to extremists in Gaza.
Edited translation from DPA