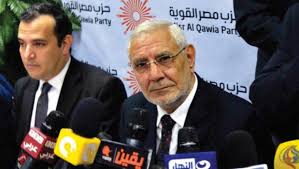 Head of the Misr al-Qawya Party (Egypt Strong Party) and former-Islamist presidential candidate Abdel Moneam Abu al-Fotouh refused to answer questions during interrogations by the Supreme State Security Prosecution on Sunday regarding his relationship with the outlawed Muslim Brotherhood group following accusations that he had been one of its leaders when he was a university student.
Abu al-Fotouh admitted that he had met a number of MB leaders abroad after it was revealed that Egypt's security services had monitored the meetings.
Regarding the prosecution's questions about his interview with the al-Jazeraa TV channel, in which he criticized Egypt's 2018 presidential elections and called for boycotting them, Abu al-Fotouh replied that his statements were just his personal views.
Abu al-Fotouh "underwent measures of medical examination in the prison hospital, and returned back to his jail in Tora prison," his lawyer said after he had been struck by illness during his prison stay.
Judicial sources denied that the prosecution ordered to seize properties belonging to Abu al-Fotouh and his family, asserting that he only faces accusations over spreading false news.
Egyptian security forces arrested Abu al-Fotouh on February 14 for alleged ties with Egypt's outlawed Muslim Brotherhood.
Edited translation from Al-Masry Al-Youm