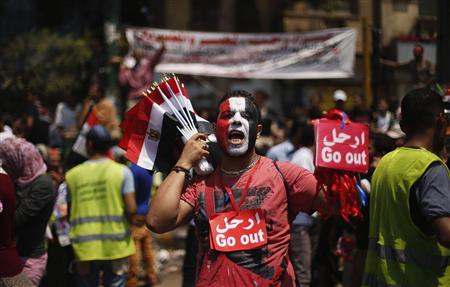 Eighteen people have now been killed in clashes between pro and anti-government protesters in Giza, Health Minister Mohamed Mostafa Hamed said Wednesday.
The announcement marks two more deaths since overnight clashes killed 16 in the west Cairo neighbourhood.
Earlier state television quoted a Health Ministry spokesperson as saying 16 people had been killed and 559 others injured.
Unknown men had attacked Nahdet Misr Square on Tuesday where President Mohamed Morsy's supporters are protesting.
Meanwhile, dozens of protesters headed to the square on Wednesday to join thousands of protesters who started a sit-in on Tuesday to support Egypt's beleaguered president, Anadolu news agency reported.
Popular committees closed all roads to traffic on Wednesday and wore helmets and carried batons to fend off attacks. Security forces were not seen in the area.
Another 619 people have been injured in violence since Tuesday evening.
Hamed said 192 persons are still being treated in hospitals, while another 418 have been discharged.
Nine persons were transferred to other hospitals for undisclosed reasons.
Thirty-two people have been killed since Sunday in clashes between pro and anti-Morsy protesters across Egypt, according to official data and medical sources.
On Wednesday, the Health Ministry published the following figures collated from governorates across Egypt:
Alexandria: 47 admitted (35 discharged)
Aswan: Three admitted (two discharged)
Beheira: Three discharged
Beni Suef: 25 admitted (24 discharged)
Cairo: 65 admitted (51 discharged)
Damietta: Two discharged
Daqahliya: 13 admitted (three discharged)
Fayoum: 21 admitted (18 discharged)
Gharbiya: 15 discharged ‫∙
Giza: 366 admitted (18 deaths, 211 discharged)
Luxor: 18 admitted (16 discharged)
Minya: 20 discharged
Qalyubiya: Three discharged
Red Sea: 14 admitted (13 discharged)
Sharqiya: Two admitted
Suez: Two discharged
Edited translation from Al-Masry Al-Youm