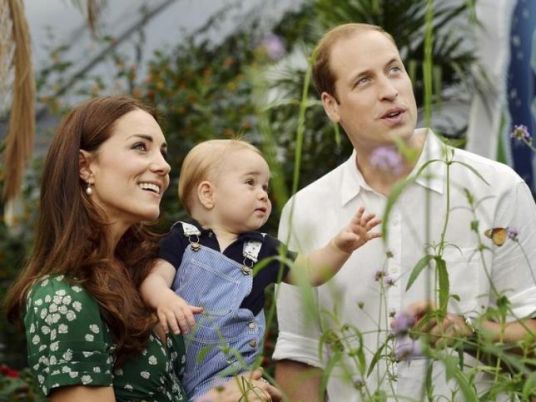 Prince William's new baby, due later this month, will join the long line of second children born one step from the throne — the so-called spare to the heir.
The big difference is that new laws that came to effect last month mean that if it is a girl and if William and his wife Kate have more male children, she will not be skipped over in the succession line.
Assuring the dynasty's continuity should the first line fail, the spare can often end up inheriting the throne, as has happened in recent history.
But experience shows the younger can often be more wayward and the elder more dutiful.
Here is a look at six generations of "spares" and the life that comes the way of a royal number two:
– KING GEORGE V –
King Edward VII's second son.
Born in 1865, George, who founded the House of Windsor and introduced the modern style of monarchy, was never meant to be king. His older brother prince Albert Victor dieشd aged 28 in the global influenza pandemic of 1892.
Albert Victor was engaged to princess Mary of Teck, who became close to George during their shared mourning and they married the following year.
He reigned from 1910 to his death in 1936, cut ties with German royalty during World War I and sought to bring the monarchy closer to the people.
– KING GEORGE VI –
King George V's second son.
Like his father, the young prince Albert of York was never meant for the throne. However, his elder brother king Edward VIII abdicated months into his reign in order to marry US socialite divorcee Wallis Simpson.
Shy and with a stammer, as depicted in the Oscar-winning 2010 film "The King's Speech", George nonetheless had a profound sense of duty and steadied the monarchy, steering Britain through World War II with great personal courage.
The strain of his unexpected responsibilities are thought to have affected his health and he died from a coronary thrombosis, aged 56, in 1952.
– PRINCESS MARGARET –
King George VI's second daughter.
While Queen Elizabeth II inherited her father's strict devotion to duty, her only sibling princess Margaret was freer to party. Born in 1930, she brought glamour to the Swinging Sixties, mixing with actors, musicians and living a bohemian lifestyle.
She wanted to marry her father's divorced equerry but eventually decided against it rather than lose her royal position. She married photographer Antony Armstrong-Jones, then had a lengthy affair with a younger gardening expert.
A smoker and drinker, her health dwindled and she suffered strokes, dying aged 71 in 2002.
– PRINCE ANDREW –
Queen Elizabeth II's second son.
While the no-nonsense Princess Anne is the queen's second child, Andrew overtook her in the line of succession when he arrived in 1960. He entered the navy and served in the 1982 Falklands War as a helicopter pilot.
His 1986 marriage to fun-loving Sarah Ferguson fell apart, but though divorced they remain close. His 10-year role as Britain's international trade ambassador ended in 2011 over his links with various controversial associates.
A US judge this month struck from the record allegations by a woman that she was forced into sexual relations with Andrew.
Andrew has earned the nickname "Air Miles Andy" over his penchant for luxury air travel and golf.
– PRINCE HARRY –
Prince Charles's second son.
Harry, the younger of the heir to the throne's sons with Diana, Princess of Wales, was born in 1984, two years after Prince William.
He earned a reputation as a party prince — smoking cannabis and infamously wearing a Nazi fancy dress costume — but has since tried to cut a more mature figure.
After 10 years in the British Army, including two tours in Afghanistan, he is currently serving in its Australian counterpart as he prepares to retire from the military.
In future, Harry is expected to focus on royal duties and rehabilitating wounded veterans, notably with his Invictus Games.
– BABY CAMBRIDGE –
Prince William's second child.
The new royal baby will be two years younger than William and Kate's first child, Prince George. The baby's early years will likewise probably see few public appearances and occasional picture releases.
While most attention will be on George, history shows that events can take unexpected twists for the next in line.