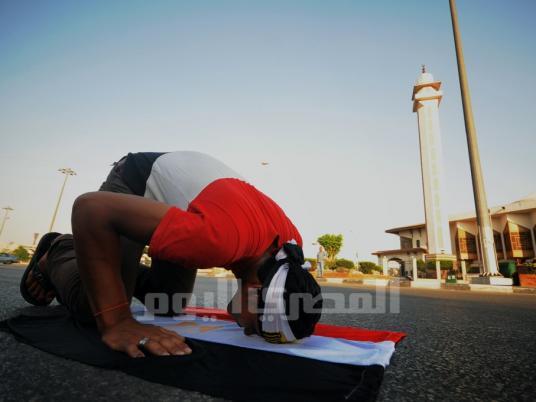 A dowry of gold is the first step in marriage procedures for Egyptians, and Sagha is the destination. The area is the hub for dozens of shops selling gold jewelry and used to witness people rejoicing oncoming of weddings.
Relatives of the bride and groom shift between shops to chose the best and leave happily with the dowry, while the merchant as well stratified profit of the deal.
But gold prices went soaring, and the scene is almost unrepeated nowadays. Clients even don't walk in the streets, merchants set helplessly chatting with each other at their shops, and calling on passerby "are you selling gold? Do you have gold?," and vitrines are empty.
Gold prices witnessing constant rises since March, when the Central Bank of Egypt (CBE) devalued the pound by about 14% to adjust dollar shortage.
The price of one gram for Karat 24 is at LE510, Karat 21 at LE450, and Karat 18 at LE380.
Maged Ramsy, a shop owner, wonders "for whom I buy my merchandise, and to whom I sell it, it's now two months I don't buy.
High gold prices prompted merchants to buy used jewelry from clients, even silver shops buy used gold jewelry.
"With previous hikes in gold prices we managed to get by and sell our jewelry, but now the conditions are different, the prices are very expensive," Hussain, a worker in a gold shop said.
The soaring gold prices pushed several villages in Egypt to abandon the golden dowry, and replace it with a simple gift to make marriage easier.
"Dollar and gold prices made no way for the dowry, and clients buy only a twin ring," Hussain said.
A different aspect for the hiking gold prices is that shops let go of workers. "We have 6 workers in the shop, and now we only need 2," gold shop owner Mahmoud told al-Masry al-Youm.