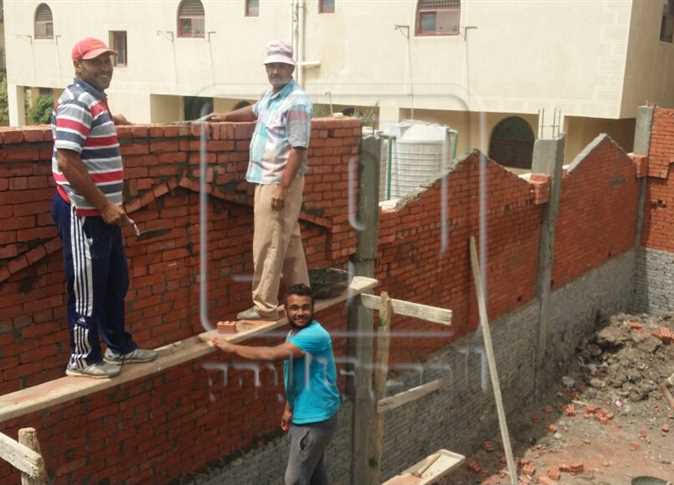 Egyptian terrorist Hisham Ashmawy returned to light again, after the General Command of the Libyan Armed Forces announced his arrest on Monday, in a security operation in the city of Derna.
Ashmawy, a dismissed army officer, has become a militant in recent years and is likely to have been involved in the Oasis attack on police forces, leading the government to deem him among the most dangerous terrorists.
Ahmed Saqr, a former assistant to the head of the Sinai Development Authority and a founding member of the al-Adl Party, said that Ashmawy "was always a smart officer and comes in the front, starting with the primary Commandos squad in the Military Academy, until the professional training teams in the United States."
There are few documented accounts of Ashmawy's life before the transition, as if the shift had come overnight. Most reports say that the religious commitment in Ashmawy's live appeared suddenly.
Ashmawy was born in 1978. His full name is Hisham Ali Ashmawy Mosaad Ibrahim. He grew up a child who liked to play sports. In 1996, at the age of 18, he joined the Military Academy, at a time when former President Hosni Mubarak ruled the country. He initially joined the infantry, but then joined the Commandos.
"He was keen on physical exercises, especially football," said one of his relatives.
"He was committed and not extremist, watching TV with us and a football fan," one officer acquainted with him told Reuters. He explained Ashmawy's interests before turning to jihadism and becoming "Abu Omar al-Mohager".
The central incident in Ashmawy's records is a verbal altercation that took place between him and a mosque preacher at his training camp, after the preacher inadvertently misrepresented the Quran, which caused suspicions to be raised around him, and he was placed under surveillance by the Military Intelligence. He was investigated about the reasons for scolding the preacher.
Ashmawy didn't stop at this point, according to Reuters, as he distributed books of Salafist sheikhs to his colleagues in the service, saying, "Greetings and peace to God only," according to the testimony of one of the former recruits, who said that Ashmawy "used to wake me up for the Fajr (dawn) prayers. He talked to us about the necessity of having character and not accepting information or orders without being convinced of them."
Ashmawy was then moved to an administrative job. In 2006, a relative testified, according to Reuters, that a friend of Ashmawy's was arrested and died in custody, which led him to become another person.
In 2007, Ashmawy was referred to a military court after being warned not to repeat his provocative words against the army. In 2011, the Military Court ruled that he would be dismissed from service. He then began forming a terrorist cell with four police officers, who were also dismissed from service for their misconduct, and they were joined by some Takfiris.
Ashmawy then worked in trade and export and import. He traded clothes and cars spare parts. In 2012, he joined the Ansar Bayt al-Maqdis terrorist group, according to security officials. He then led the cell and participated in training members to fight.
Sherif, Abu Muhannad and Abu Omar al-Mohager are all nicknames for the same terrorist: Ashmawy. These names were unknown at first, but later became a terrorist symbol.
In 2013, Ashmawy was accused of trying to assassinate former Interior Minister Mohamed Ibrahim and was part of the Arab Sharks case. He was also accused of planning and participating in the July 2004 massacre of the Farafra checkpoint in which 22 army recruits were killed.
In June 2015, Ashmawy's name appeared on the scene again after the assassination of Attorney-General Hisham Barakat. He then appeared on his own and broadcasted an audio clip. He identified himself as the Emir of the Morabetoon organization. He said, "Stand up to your enemy and do not be afraid of him and be afraid of God, if you are believers."
In August 2015, the security forces launched a campaign to raid the whereabouts of Ashmawy, after security sources confirmed that he was injured in the clashes between Ansar Bayt al-Maqdis terrorist group and joint forces of the army and police near the Cairo-Suez Road. He was then smuggled to Libya for treatment and has been in close relations with some armed factions in the eastern region since 2012.
In June 2017, a Libyan army spokesman, Col. Ahmad Al-Mesmari, spoke of Ashmawy, saying, "The former Egyptian officer is currently leading a militant group in the city of Derna, northeast of Libya, and was involved in the terrorist attack in Minya in Egypt, which killed 29 Coptic Christians."
"Ashmawy, an officer who was expelled from the Egyptian army in 2012, is now a leader of terrorist groups in Derna and leading terrorist operations from there," he said at a press conference.
Edited translation from Al-Masry Al-Youm.