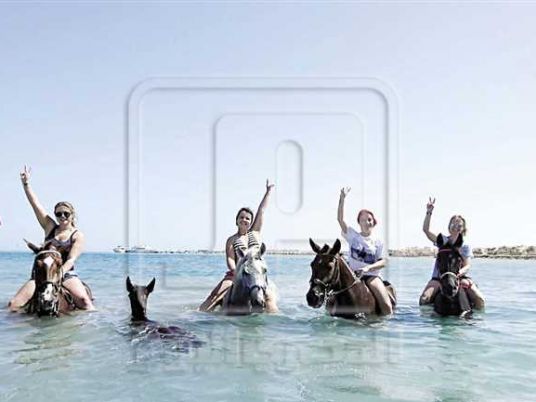 Twenty years ago, three brothers from Fayoum Governorate came to Hurghada to work in tourism, wishing to have a project of their own and an extension of their favorite hobby, experience and their work in the breeding and training horses.
They rented a place in one of the famous resorts which would be the headquarters for their project. They started with a just few horses and currently have about 20 trained, well-cared for horsesnalong with continuous veterinary and physical hygiene.
They obtained licenses for renting out horses to tourists and organizing horse riding trips. They gained fame among tourists in Hurghada for their superior horse riding and training.
Hamada Tito, one of the three brothers who came from Fayoum to Hurghada, told al-Masry al-Youm that the horses involved in these trips are always trained and they pay great attention to their nutrition, cleanness and veterinary health, as each horse has veterinary certificate.
The horses have specific times for eating: breakfast at 6 am, lunch at 12 noon, and dinner at 7 pm. Each horse has a title and name, the most famous of which are the Rambo and Princesa.
Tito added that there is a demand from tourists for this hobby, whether in private or group trips, and German tourists come first in their demand and love for this hobby, in addition to a large number of Egyptians who come to Hurghada specially for their hobby.
There are a number of tourists who have their own horses and they leave them for him and his brothers to take care of it while the tourists travel.
Before the beginning of any trip, tourists receive training on how to ride a horse under the supervision of workers in the stable until they show that they can ride the horses safely and control them during the journey.
Tito explained that there are different types of trips available: long whole-day journeys and five-hour trips that start early in the morning and take tourists on a 20-km trip from the north of Hurghada to the area of Senzo, including a trip to the desert of Hurghada. He said that the most popular trip is riding horses on the shores of the Red Sea.