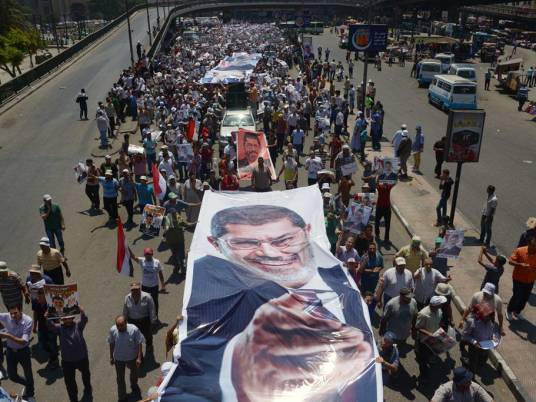 A human rights delegation visited on Thursday the site of the Rabea al-Adaweya sit-in, where supporters of ousted president Mohamed Morsy are protesting, to conduct a fact-finding mission in coordination with the Muslim Brotherhood.
Human rights sources told Al-Masry Al-Youm that the delegation consists of representatives of six organizations, including the Egyptian Initiative for Personal Rights, the Hisham Mubarak Law Center, Cairo Center for Human Rights Studies, and the Egyptian Center for Economic and Social Rights.
The visit comes hours after the interior ministry issued a statement demanding that pro-Morsy protesters end the sit-in and leave the area.
Information Minister Doria Sharaf Eddin announced on Wednesday that the government has decided to start taking all necessary measures to address the risks arising from the pro-Morsy sit-ins in Rabea al-Adaweya and Nahda square. The interior minister was told to take the necessary measures to face those "risks" in accordance with the Constitution and the law.
The two pro-Morsy sit-ins have been taking place for 33 days. There have been many violent events and clashes between protesters on the one hand, and military and police forces, as well as residents of neighboring areas, on the other, resulting in dozens of deaths.
Edited translation from Al-Masry Al-Youm