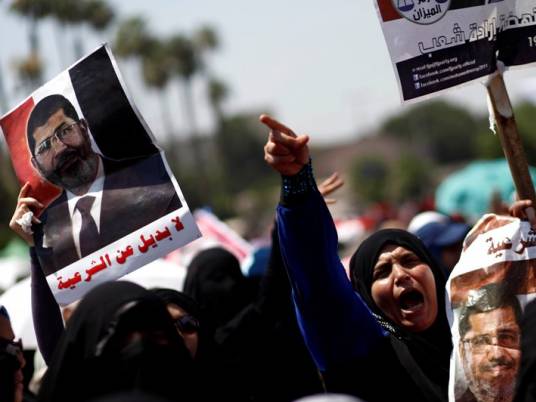 Seven human rights groups have expressed on Saturday concern regarding exceptional procedures taken against Islamist satellite TV channels following the overthrow of former President Mohamed Morsy last week.
On Wednesday, security troops attacked at least three TV channels, arrested their workers, and halted their broadcasts, claiming they were inciting violence against protesters.
Three Islamist channels' broadcasts were cut right after the military command delivered its speech announcing the toppling of President Morsy and the beginning of a new interim period.
The terminated channels included Masr 25, al-Rahma, al-Hafez, al-Nas, al-Khalijiya, and al-Jazeera Mubasher Masr. This week's issue of the second edition of the Freedom and Justice newspaper was not allowed to go to print.
The human rights groups said in their statement that these measures were taken without transparency. The statement added that authorities arrested the channels' staff without explaining what accusations were being made against them.
The statement condemned the staff's detention and the fact that their exact whereabouts have not been communicated to their families, especially in regards to the staff of al-Nas and al-Hafez channels. Skepticism regarding the legality of their detention abounds.
The rights groups who signed the statement include the Cairo Institute for Human Rights Studies (CIHRS), the Association for Freedom of Thought and Expression, the Egyptian Initiative for Personal Rights (EIPR), the Hisham Mubarak Law Center, and Al-Nadeem Center for Rehabilitation of Victims of Violence.
While condemning those who incite violence through the media, the group stressed that the legal procedures taken against such crimes must be transparent and follow local and international law.