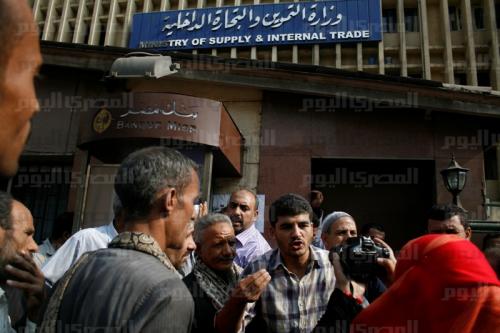 Hundreds of bakery owners stormed into the headquarters of the Supply Ministry in Cairo, blocking Qasr al-Aini Street on Tuesday. The protesters managed to reach the gate leading to the minister's office to protest the shortage of diesel, and the rise in the prices of gasoline, diesel and flour.
Security forces evacuated the ministry building.
Central Security Forces were deployed to prevent the protesters from breaking into the minister's office. The protesters chanted, "Bassem Ouda… loser, loser" and "Down with Mohamed Morsy, down with Bassem Ouda."
They said that they will not leave until their demands are met in a meeting between the minister and Abdallah Ghorab, head of the bakery owners division at the Egyptian Federation of Chambers of Commerce.
One of their most significant demands is the raising the cost of production of one sack of flour from LE80 to LE120.
On Saturday, the protesters broke into the ministry, but employees persuaded them to protest outside the ministry after informing that the minister was accompanying the president on a trip to Sohag Governorate.
On Monday, Ouda threatened to sue bakery owners who had announced plans for a strike over a new policy for bread production.
The debate between Ouda and bakery owners has been ongoing since the government began implementing a new subsidy system in February. The government says the system will save LE11 billion annually by making it more difficult for whole ingredients like wheat to be sold on the black market.
The plan subsidizes only final bread products, not the costs of grain and flour.
Edited translation from Al-Masry Al-Youm