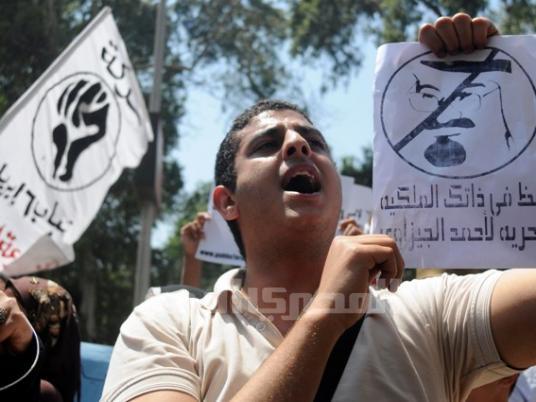 Hundreds of lawyers gathered at the Supreme Court in downtown Cairo on Wednesday to protest last Thursday's decision to try two of their colleagues before the criminal court on charges of insulting the Supreme Constitutional Court.
Some 300 hundred lawyers affiliated with the Freedom and Justice Party gathered before the court building, later joined by their independent colleagues. Deputy Public Prosecutor Adel al-Saeed met with 10 protesters for over half an hour to discuss their objections to the case.
After the meeting, Saeed said that there was no going back on the prosecution's decision to send the lawyers to trial, and that the case is now in the hands of the court.
Last July, the prosecutor's office began investigating claims filed against lawyer and former Freedom and Justice Party MP Nasser Salem al-Hafy and FJP lawyer Abdel Moneim Abdel Maqsoud. The charges alleged that the lawyers had accused the court of forging the ruling that dissolved the People's Assembly on 14 June.
Hafy and Abdel Maqsoud filed a complaint with the general prosecutor saying that the Supreme Constitutional Court had sent a copy of the ruling to state-run newspapers before the court had decided on the case. The prosecution said investigations showed their claim was false, and accused Hafy and Abdel Maqsoud of insulting the court.
Edited translation from MENA