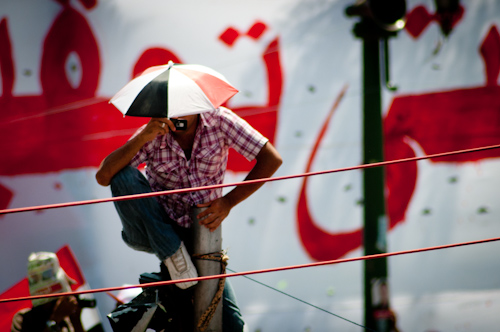 Hundreds of protesters remained in Tahrir Square on Saturday after President Mohamed Morsy delivered his speech in Cairo University celebrating the handover of power to Egypt's first elected civilian president, saying they would continue their sit-in until the cancellation of the supplement to the Constitutional Declaration and the return of the dissolved People's Assembly.
"I felt that the president came to reconcile all the spectrums of the society including the armed forces, the judiciary and the police and to make a national reconciliation," said 27-year-old lawyer Amin Raouf. "His performance of the oath was strong and I feel that he will raise the dignity of Egyptians among other nations. I also liked his mention of the Palestinian cause and the Arab unity."
Some protesters said they with Morsy's performance so far, but said they are protesting until they see the army take back some of its most recent grasps at power.
"The president's speech was political and patriotic," said Islam al-Masry, member of Revolutionaries without Affiliation group. "He courted and satisfied the armed forces by saying more than once 'our great armed forces', and promised to preserve their prestige."
"Morsy's policy is clear that he will not collide with the armed forces at the beginning of his rule, although we wish that the military council disappears from the political arena," Masry added.
Others said that Morsy had already sacrificed too much to the interim period's ruling generals.
"Morsy should have taken with him to the celebrations Muslim Brotherhood Supreme Guide Mohamed Badei and Khairat al-Shater because he is not free yet of his 'Brotherhoodism'," said Mahmoud Farag, 23, criticizing Morsy.
"The speech made clear that the Brotherhood were handed the presidential office after a deal with the military council."
Edited translation from Al-Masry Al-youm