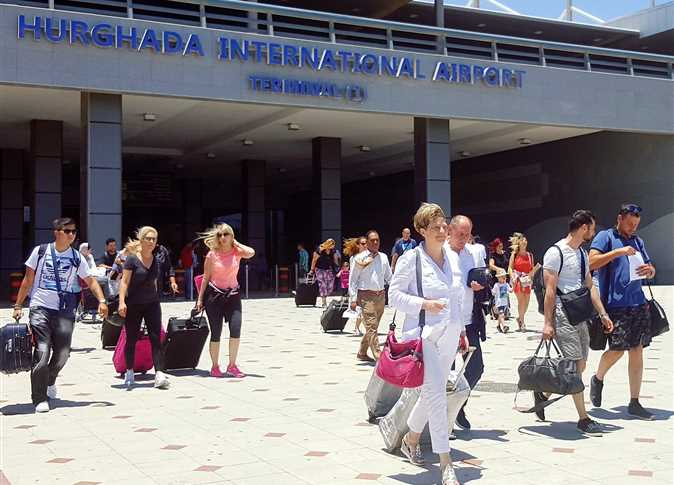 The Hurghada International Airport on Friday received its first flight from the Lithuanian airline GetJet Airlines with 180 passengers on board, after a one-year hiatus caused by the coronavirus outbreak.
The airport's administration celebrated the landing of the first flight coming from Lithuania's Vilnius International Airport to Hurghada.
The Lithuanian airline will operate three flights per week to Hurghada Airport.
The airport has seen a resurgence in tourist arrivals in the past few days, with up to 30 flights daily from European countries – especially Ukraine, the Czech Republic and Poland.
And the Marsa Alam International Airport recently obtained the Health Accreditation Seal for Safe Travel from the Airports Council International (ACI), a major breakthrough in the tourist airport system.
Egypt had suspended flights and tourism in March 2020 as part of measures to combat the coronavirus outbreak. Traffic in all Egyptian airports resumed since July 1, in accordance with Egypt's preventive and precautionary measures to coexist with the coronavirus.
Beginning September 1, all local and foreign passengers were demanded to provide a PCR analysis document proving they tested negative for coronavirus within 72 hours of reaching Egyptian territory.
Egypt's tourism sector, accounting for approximately 12 percent of the country's economy, has experienced a slump in tourism since the onset of the coronavirus pandemic. The country's Ministry of Tourism and Antiquities, in cooperation with the Ministry of Aviation, has launched several campaigns to revive the industry.
However, a severe second wave of the virus sweeping the US and Europe have prompted further lockdowns, curfews, and travel restrictions, again slowing the influx of tourists.